'Mutual Fund Sahi Hai' campaign launched in March 2017 by AMFI. The campaign promotes exactly what it states 'mutual funds are the right choice.' The aim of the campaign was to promote mutual funds and educate investors.
The campaign is a huge hit. As a result, within one year of the campaign launch, 50 lakh new investors have started investing in mutual funds. The article talks about why mutual funds are the right choice and how to pick the right mutual funds.
Long Term Portfolio
The right mutual funds for your long-term goals with inflation-beating growth plus risk management.
Indicative returns of 10-12% annually

Investment horizon of 5+ Years
No lock-in

Long term goals such as retirement or building your wealth
Why did the Government start the campaign Mutual Fund Sahi Hai?
Mutual Fund Sahi Hai is a campaign launched by AMFI as a part of its investor awareness outreach program. AMFI is a non-profit organization.
It is an association of all the asset management companies of SEBI registered mutual funds. Mutual fund sahi hai campaign is not a Government of India initiative. However, SEBI strictly regulates AMFI, and under SEBI's guidance, AMFI launched this investor awareness program.
Mutual fund sahi hai is a campaign by the AMFI to position mutual funds as a preferred investment option for potential investors. With everyday situations as a backdrop, the campaign promotes mutual funds as the right investment option for prospective investors. Also, The campaign aims to educate the common public about mutual funds and dismisses the myths around them.
In multiple languages, the campaign was launched in 2017 in different media such as TV, digital, radio, print, outdoor, and cinema. The campaign is a huge hit. As a result, within one year of the campaign launch, 50 lakh new investors have started investing in mutual funds. Consequently, within two years, the Average Assets Under Management (AAUM) has grown 33% from INR 18.5 trillion in February 2017 to INR 24.6 trillion in March 2019.
Why Mutual Fund Sahi Hai?
Mutual funds are the 'Sabse Sahi' option to invest. The following are the reasons why mutual funds are the best option to invest.
Diversification: Mutual funds offer a balanced and diversified portfolio across sectors and market capitalization.
Manage risk: Mutual funds offer funds for both short and long term investment. Therefore, investors have to choose the right fund, which serves as a proper asset allocation tool and helps in minimizing risks.
Well regulated: SEBI regulates mutual funds. Under these regulations, mutual funds are required to disclose fees, assets under management, and other particulars like NAV and expenses regularly.
Easy to invest and offer high returns: Investing in mutual funds can be done at the click of a finger with an amount as low as INR 500. Also, the returns offered by mutual funds beat inflation and returns from other investment options like PPF and tax saving FDs.
Better liquidity: In contrast to NPS, PPF, or real estate investments, Mutual funds are highly liquid. Therefore, investors can redeem their units anytime and get cash within a week. Also, only closed-ended mutual funds like ELSS have a lock-in period of 3 years.
Tax benefits: Investing up to INR 1.5 lakhs a year in ELSS mutual funds helps save tax under section 80C of the Income Tax Act.
Benefits of investing in Sahi Mutual Fund
Better Growth
Mutual Fund investments have the potential to offer higher returns. Compared to traditional investment schemes, a mutual fund has a better chance of providing higher returns as they invest in a wide range of assets. Although returns depend on various factors, on average mutual funds, give returns that help investors beat inflation.
Professional Management
It goes without saying, thorough research is required for investments. Mutual Fund is managed by a professional manager. Therefore, his experience, expertise, and continuous research help in making investment decisions. The fund manager also monitors the economy and market and makes the necessary adjustments to maximize returns for investors.
Offers Diversification
Investment in a mutual fund is a synonym for diversification. Unlike other traditional investment vehicles like PPF and FDs, mutual funds help investors create a balanced and diversified portfolio.
An equity mutual fund invests depending on its investment objective. Also, it invests in shares of various companies across or within market capitalizations. Debt mutual funds invest in fixed income instruments of multiple companies as well as those issued by the government or RBI.
Easy of Investing and Monitoring
With Mutual Funds, savings have become easy. With a Systematic Investment Plan (SIP), investors can start mutual fund investments with as low as INR 500 a month. Also, monthly automated debits can be enabled from the bank account, with several online platforms available for investing.
Therefore, mutual Fund investments can now be tracked without much hassle. The investor has the comfort of choosing the amount they would want to invest. Hence online account makes systematic investments, accessing account statements & portfolio details convenient and easy.
Liquidity and Tax Benefits
Mutual Fund investments are highly liquid. However, close-ended funds are not liquid like other funds. Upon redemption, the cash gets credited into the bank account in a short period. ELSS is a type of diversified equity mutual fund. It offers tax benefits while opportunities for investment growth.
Also, ELSS mutual funds are the only type of mutual funds that have a lock-in period. The taxation of mutual fund returns depends on the type of fund and the duration of the investment.
Mutual Funds offer a Systematic Withdrawal Plan (SWP)
SWP helps mutual fund investors in creating regular income. It allows investors to redeem a fixed number of units at a predetermined interval. The withdrawal period can be monthly, quarterly, or annually. Also, SWP is ideal for retired investors.
How to choose the Sahi Mutual Fund?
The most challenging job of investing is choosing the asset. Similarly, while investing in mutual funds, choosing the Sahi mutual fund is a challenge. Before investing its utmost important to understand the financial goal, risk appetite, and investment horizon of the investor.
Mutual funds offer a variety of investment options that suit different kinds of investors. Therefore, investment in Mutual funds is suitable for low risk, high risk, short term, long term investors.
To choose the Sahi mutual fund, an investor needs to make sure they fulfill the following checklist:
Read the offer document carefully.
Match the fund's objective with one's goal. The mutual fund objective is based on factors such as asset allocation, dividend payouts, tax benefits, risks, and sector of focus. If a mutual fund's objective does not seem to be matching the investor's goal, then that fund is not worth investing.
Check fees and exit loads. Investors are charged a fee for mutual fund services, including administration costs, manager fees, and operational charges.
Evaluate a fund's past performance and its consistency. Past performance doesn't guarantee future returns. However, it is a good indicator to estimate future returns. Comparing the past performance with the benchmark set for a fund will give a better idea about its actual performance. Also, compare the performance of competitors for getting an additional idea about how the fund may perform. Ensure that the fund is investing in the type of securities as per the investment objectives.
Credentials of the fund manager
Analyze portfolio and holdings. Analyzing the portfolio and holdings will give a general idea of the securities a fund is investing in.
Why Scripbox for Mutual Fund Sahi Hai?
Scripbox offers financial goals based plans and systematic investment options. Scripbox has predefined financial goals aligned with life events. Such as weddings, buying a dream car/ bike, foreign vacation, loan closure, children's education, retirement, emergency money, and tax savings.
The biggest challenge for any investor is to pick the best mutual fund from the universe of 6000+ funds. Hence, Scripbox aims to simplify the process of investing. Also, the USP of the platform is that investors have access to an algorithmically selected portfolio of the best mutual funds to invest in.
The scientific investment process is without bias. It also helps build a holistic investment portfolio in the right way. As a result, Scripbox monitors and reviews the selected funds periodically and suggests necessary changes. It is done to keep the investment in line with financial goals.
The biggest benefit of using Scripbox is that one can invest in different mutual funds from a single account. Further, mutual fund investment needs monitoring, tracking returns, redemption, and re-investing. At Scripbox, all these processes are available online, making the user experience completely hassle-free. Additionally, investors are provided with annual reviews, automated SIP facility, and periodic reports related to their investments.
Above all, the process is online, 100% paperless and can be done using a single Scripbox account.
How to invest through Scripbox?
Scripbox has made mutual funds investment extremely easy even for new investors. One can invest in mutual funds by following the steps below:
Step 1 – Visit Scripbox and Begin the Investment Journey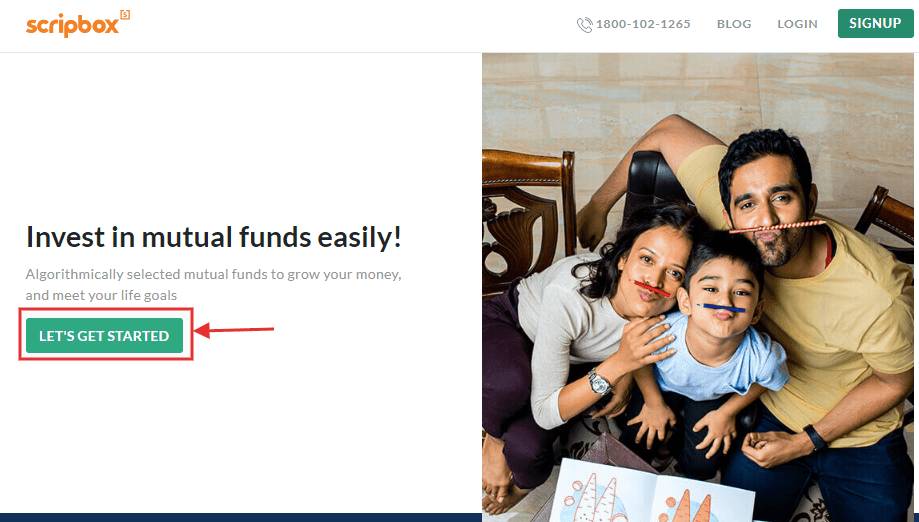 On the homepage of the Scripbox website, click on the "Let's get started" button. A list of investment options based on life goals is available.
For investing in mutual funds, pick any of the options that are close to one's financial goals.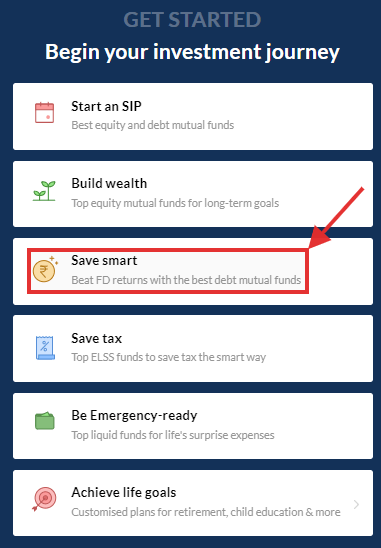 For example, the "Save smart" option is selected (highlighted above). Next, a predefined short term money plan is shown below;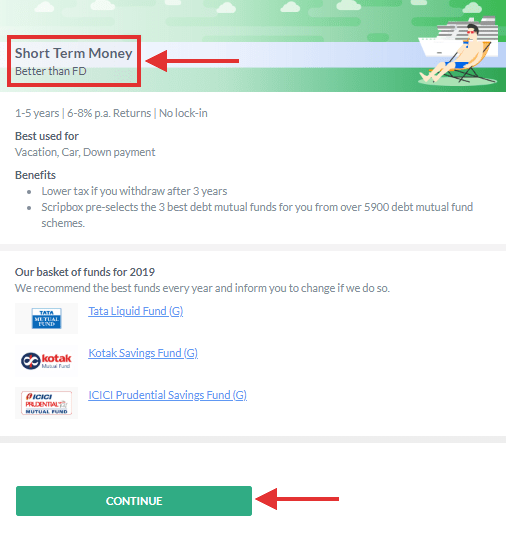 Click on "Continue" to proceed with the mutual fund investment.
Step 2 – Signup and Create an Account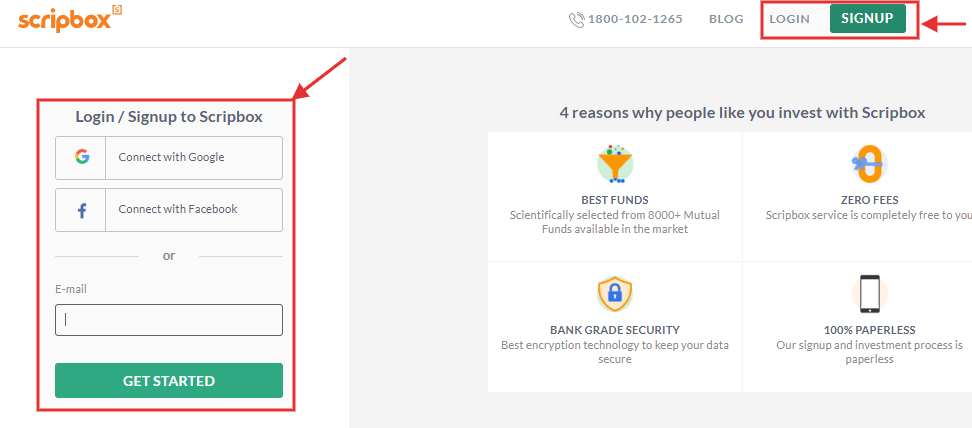 Upon logging in, the investment details will be available as shown below;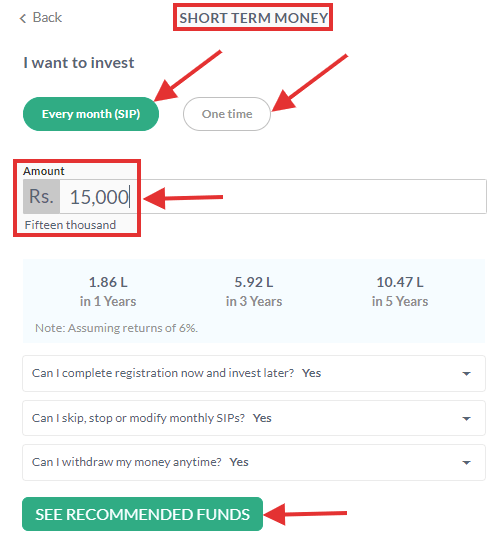 Here Scripbox allows investors to select the payment option. One can select "Every month SIP" or "One-time" payment options depending on their cash flow.
Click on "See Recommended Funds" to proceed for investment.
Step 3 – Check the Plan and Fund Allocation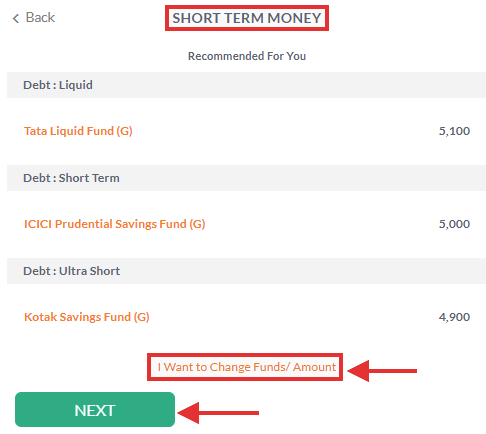 The list of mutual funds and the allocated amount for the selected plan is shown on this page. Check all the details before proceeding ahead.
If the investor wishes to change the fund or amount, click on the option, "I want to change Funds/ Amount."
Click on the "Next" button to make payment.
Step 4 – Bank Details and Money Transfer
In the last step, enter the bank account and PAN details. Scripbox provides a secure environment, and a bank account will be used for investing and crediting the redemption proceeds only.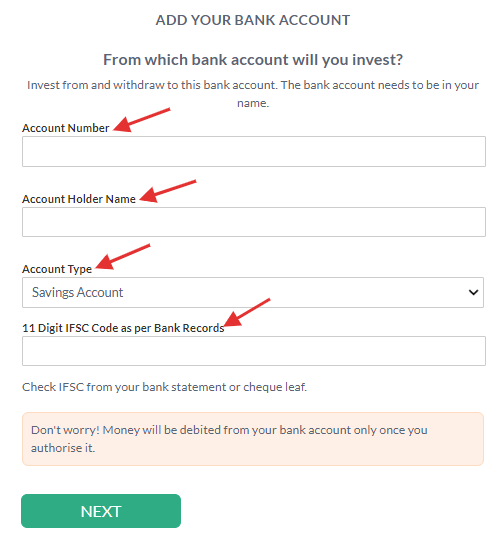 Scripbox curates top funds to make a portfolio for multiple purposes like building long term wealth, a tax saver plan, or emergency fund. Below are the portfolios curated by Scripbox for different financial goals.
Conclusion
Mutual Fund Sahi Hai! A mutual fund is a right (Sahi) investment option that scores over traditional investment options in terms of diversification, expert management, liquidity, and higher growth rates. The investor has the flexibility of SIP, lower investment cost, and has schemes for all financial needs. Invest in the 'Sahi' mutual funds with Scripbox.
Discover More