Equity Linked Savings Scheme (ELSS) is the only mutual fund scheme which helps you save taxes under section 80C of the Indian Income Tax Act, 1961. You can get a maximum deduction of up to Rs 1.5 lakh by investing in ELSS funds. ELSS can be one of the best options for your long term financial goals.

You should not consider tax saving as the only motive for investing in ELSS. ELSS is an inflation-beating investment option with the primary objective of capital appreciation with tax benefits.
If you are looking to save taxes, generating higher returns along with a lower lock-in period then you should consider investing in ELSS.
In this article, we will discuss how to invest in ELSS online and offline. Before moving to step by step guide, let's have a look at the features of ELSS mutual funds.
Features of Equity Linked Saving Scheme (ELSS)
1. Tax Benefit of ELSS Mutual Funds
Tax saving is the prime reason for ELSS being the great choice as an investment option. Investment to the extent of Rs. 1.5 Lakhs annually in ELSS qualifies for the tax deduction under section 80C of the Income Tax Act, 1961.
However, you can invest any amount in ELSS, as such there is no upper limit for investment. The investment beyond Rs. 1.5 Lakhs do not provide tax benefits.
You may also like to read - ELSS vs PPF
2. Lock-in Period
There is a lock-in period of 3 years associated with the ELSS investment. The lock-in period helps reinvestment of earnings and evens out the initial volatility associated with equity investments.
However, you should know that the lock-in period starts from the date of purchase. For example, if you are investing a lump sum amount of Rs. 1000 and getting 100 units on July 31, 2019. Then the lock-in period will get over on July 30, 2022.
But when you are investing through SIP every month like 10 units on July 31, 2019, 10 units on August 31, 2019, and so on. Then the lock-in period will end on - for the first 10 units on July 30, 2022, for the next 10 units on August 30, 2022, and so on.
3. SIP or Lumpsum
There are two methods to invest in ELSS. If you have regular income then you can invest monthly through SIP. Otherwise, if you have surplus cash then you can make a single lump-sum payment to invest in ELSS.
You can invest in ELSS through SIP for as small as Rs. 500 per month. You can check the difference between SIP and mutual fund.
4. Major Investment in Equity
For generating returns, the ELSS pooled funds are invested in equity and equity-related securities. Equity instruments carry a higher level of risk than debt, bonds or money market instruments like CPs, CDs, and T-bills.
You should also check your risk appetite before investing in equity. Equity offers better returns over a period of time but can be volatile in the short term.
Likewise, you also get higher returns for investing in ELSS. ELSS gives you 12% and above returns in comparison to 8% returns of PPF and NSC.
5. Tax on Returns
Not all gains from ELSS investments are tax-free. The gains from ELSS investments are treated as long term capital gains (LTCG) and any gains in excess of Rs. 1 Lakh is taxed at the rate of 10%.
5 Ways on How to Invest in ELSS in India
There are five options through which you can invest in ELSS.
Invest directly from AMC website
Through an online mutual fund investment platform
By using your Demat Account
Through registrars like Karvy and CAMS
Through your Agent
1. Invest Directly from Asset Management Company
For direct ELSS investment, you need to go to the mutual fund website. On the website, you will find two options to invest. First, a quick method to invest directly without creating an account and the second is to create a new account using the "New User Option".
It is better that you use the second option so that you can track and manage the investment through the account.
After creating the account you need to fill in the personal details and FATCA form. Later you are required to provide bank details and upload an image of the canceled cheque.
The website will prompt you for KYC details and verification through Aadhar.
After which, you can select the ELSS fund and invest by transferring the money online.
2. Invest Through Online Mutual Fund Investment Platform
This is the best method when it comes to investing in mutual funds because you can invest, track, manage, get valuable reports and customer support from a single account. That too a zero cost.
The steps required to invest using an online investment platform are -
Create an account with the investment platform
Pick up ELSS or a tax savings plan
Choose the payment type (SIP or Lumpsum) and the amount
Fill in a few personal details like PAN and bank details
Transfer money online to complete the investment
3. Invest in ELSS Using Your Existing Demat Account
You can use this method only if you have a demat account and your broker is registered as a mutual fund distributor.
For investing, you need to log-into your demat account and look for the option to invest in the mutual fund.
In the next step, you need to choose the ELSS fund in which you want to invest. Then you need to complete the investment by transferring the amount online.
4. Invest in ELSS Through Registrars Like Karvy and CAMS
The last method of investing in ELSS is through registrars of the mutual fund like Karvy and CAMS.
There are two methods to invest - Online and Offline methods.
Online Method - In the online, method you need to visit the website of CAMS or Karvy.
If you are an existing investor with any mutual fund house then you can register with CAMS and provide the folio number. Select the ELSS fund and make payment.
If you are totally new to mutual funds then you need to register by providing personal details and get the folio number, finish KYC, and upload canceled cheque. After which you can pick the ELSS fund and make payment.
Offline Method - In an offline method, you can invest in ELSS by visiting the local registrar's office and hand over the filled-in application form. Along with the application you need to hand over the canceled cheque and the copy of KYC documents.
5. Invest in ELSS Through Your Agent
This is the oldest method to invest in ELSS. You should avoid using it, if possible. Make sure you do not get swayed by the agent's recommendations and sales pitch.
he required steps are -
Call your agent or a local mutual fund distributor
Hand over the filled-in application form
Hand over the copy of all the KYC documents
Give canceled bank cheques
How to Invest in ELSS Through Scripbox
Let's have a look at how to invest in ELSS mutual funds online through Scripbox.
Step 1. Visit Scripbox and Signup
For investing in ELSS you need to create an account by signing up on Scripbox website to avail the paperless investment process.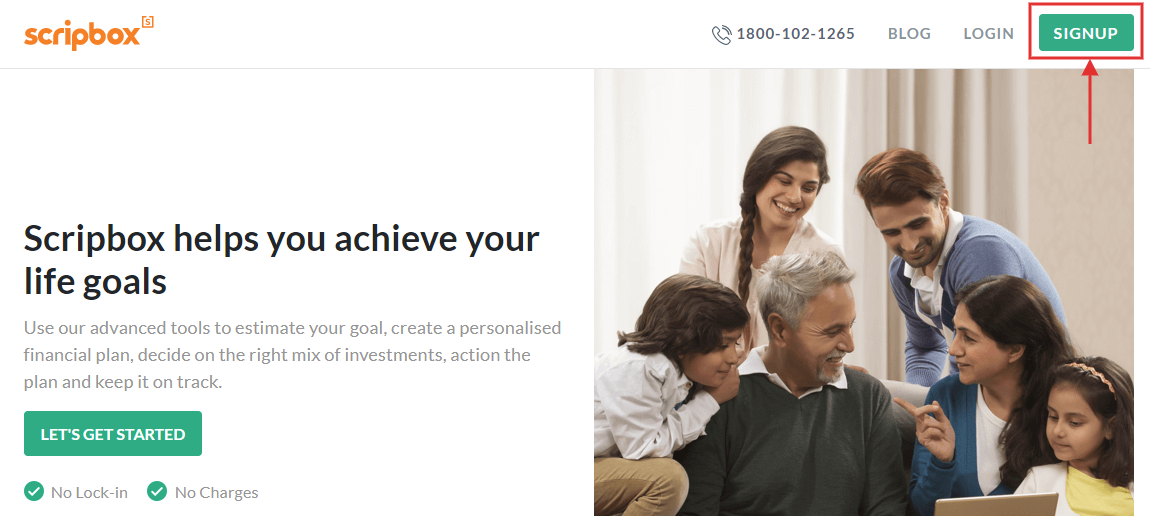 Step 2. Pick Your Purpose (Tax Savings)
Next, you need to select the purpose from the dashboard. Choose "Tax Saver Plan" for investing in ELSS.

Step 3. Get Plan Details
Here you will find details of the plan such as the list of mutual fund and the approximate returns which you can generate.
The best part is that Scripbox pre-selects two of the best performing tax saving mutual funds for you to invest from t he list of 145 ELSS fund available in the industry.
Step 4. Proceed to Invest
Next, you need to pick between a lump sum or a systematic investment plan (SIP) method of investment and the amount of your choice.

Step 5. Investor Information
At the last step, you need to provide certain information like date of birth to assess your age, gender, investor type which is nothing but your residential status (resident, NRI or PIO) and the mobile number. After clicking next you will also need to fill the PAN details.

Further, you are prompted to add bank account details for transacting. The account will be used for investment and crediting the redemption amount by the mutual fund houses directly to your specified bank account.
Convenience - You can easily start investment in ELSS with SIP for a low investment amount of Rs. 500 per month.
ELSS offers you the highest potential return of 12% and above when compared to other 80C tax saving options like PPF, NSC and NPS with the shortest lock-in period of 3 years.
Professional fund management as ELSS funds are managed by experienced fund managers.
Diversification - The ELSS fund is invested in stocks of diversified companies. Plus a certain portion is kept in cash. Thus overall you get a diversified portfolio at a lower cost.
Flexibility to invest - ELSS gives you the option to invest via SIP or Lumpsum.
ELSS is a better way to start investing in equities as compared to direct equity investment because it helps you with professional management and diversification.
ELSS is easy to redeem after the completion of the lock-in period. Plus there is no exit load after the lock-in period of three years.
Conclusion
The best and the easiest method of investing in ELSS is through an online investment platform. This way you need not maintain records for different fund houses.
The platform also offers a smooth and hassle-free investment process and other value-added services like providing reports, SIP date reminders, better customer support and materials to help make an investment decision.