Small cap funds often have lured investors with intermittent bouts of supernormal returns. Should investors consider them?
You might have an equity fund portfolio comprising of large and multi-cap funds. Does it make sense to top it up with small cap funds as well?
What is a small cap fund?
These funds invest in shares of companies that have a market capitalisation beyond the top 250 ranking. The market regulator Sebi has defined small cap equity funds as those which invest at least 65 percent of their portfolio in such stocks, while the rest could be invested in any stock including mid cap or large cap.
Its investment horizon is pretty large – comprising more than 4000 listed stocks as against 150 stocks for mid cap equity funds and 100 stocks for large cap funds.
Performance
In the last five years, small cap funds on an average gave annualised growth rate of 7.7 percent as against 8.4 percent for mid cap and 9 percent for large cap. In the last 10 years, while their growth rates were higher than large cap funds, it was lesser than that of mid cap funds by a wide margin. Long-term investors haven't benefited significantly by taking higher risk of small cap equity funds.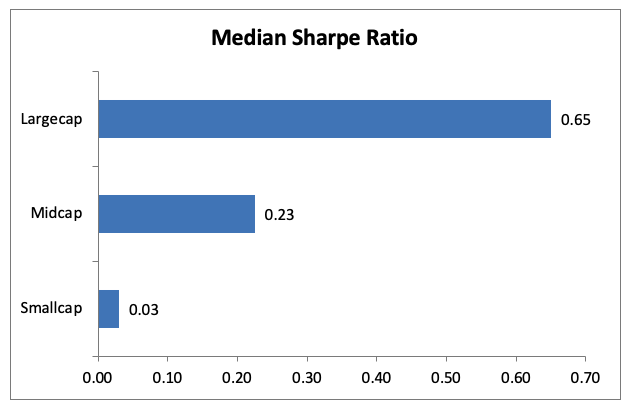 In fact, for every unit of risk taken, small cap have poorly rewarded its investors in terms of absolute growth rates as compared to that of mid-cap or large cap funds (see table). A high Sharpe ratio implies a better reward (in terms of return) for the unit of risk taken.
Highly Volatile
Small cap funds do well in rising markets but also might take a beating during downturns. After a rollicking year in 2017, when NSE Small cap 250 index gave a return of 59 percent, it has been lagging the returns of that of large cap and mid-cap indices in 2018 and 2019.
The promise
Small cap funds promise to capture the growth stories early on by investing in tomorrow's mid cap or large cap companies. Being small has its set of advantages; management is nimble enough to capitalise on business opportunities during the good times. However, when the tide turns, they are also the most vulnerable. For every success story, there are many that go kaput. Investing in small cap funds therefore requires a distinct approach
Track the fund manager
Besides returns, check if the fund manager is still there. No other category of funds has such divergent performance as small cap equity. With a large investment horizon of stocks, staying ahead is all about spotting the right stocks ahead of the market. And many a time performance moves along with the fund manager.
Apples with Apples
The mutual fund regulation allows investing up to 35 percent of portfolio in large cap or mid cap stocks. Check fund portfolio and if it's digressing from the rest in term of portfolio allocation. Large-sized funds tend to increase stake in mid caps and large cap stocks for dearth of investing opportunities and the need to retain fund liquidity.
Stay put
You need to cool your heels for at least 7-10 years to beat market volatility. Additionally, review fund performance and shuffle if need be.
Satellite portfolio
Don't over-invest in small cap funds. Commit not more than 5-8 percent of your portfolio for it, if you have the savings for it. That way you can rejoice at the upside and not feel too cheated if the returns disappoint. For those who can't stomach the volatility, they are better off with multi cap or even mid-cap funds. They anyway invest a small portion of their portfolio in small cap stocks.
Takeaway
Contrary to popular wisdom, investors haven't benefitted much by choosing small cap over that of mid cap or large caps over the long-term. Limit small cap investments to a small portion of your portfolio if at all. Else, you are better off with other diversified equity funds.