First, let's answer some questions that you might have.
Why is there a difference in cost between direct funds and regular funds?
The difference in cost comes about because of difference in total expense ratio (TER) of the two plans. The TER consists of various recurring costs, which vary from fund to fund. There are 5 major components of expense ratio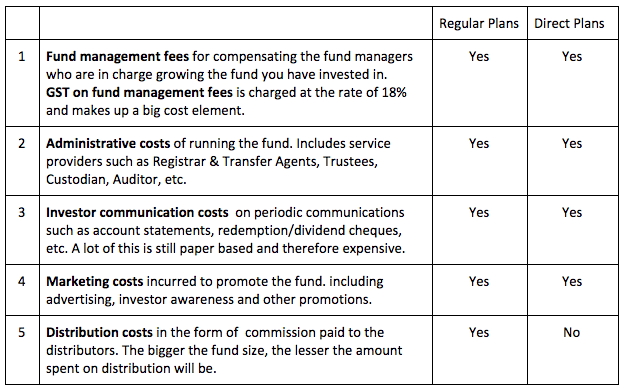 In a regular plan the distribution fee or commission component of cost is included and therefore the total expense is higher. It is important to note that this is indirectly a service fee that you pay to your investment service provider.
As a Scripbox customer, how much am I paying in distribution fees?
The distribution fee that you indirectly end up paying varies by type of funds and the average for different Scripbox recommended funds (as on August 2018) is as follows;
Debt funds: 0.15%,
Equity funds: 0.9%.
This is the actual difference between the expense ratios of direct and regular plans of the mutual funds which we currently recommend.
*The expense ratios while capped by regulatory authorities, change marginally on a continuous basis. As a result, the difference between a regular plan and a direct plan is also subject to changes. The numbers cited above are as recorded in the period mentioned above and will be subject to change.
But I thought it was 1.5% to 2.5% extra in commissions?
Yes, we've heard that too. But that is more like the "upto 70% off Sale" ads you see. For very few mutual funds the difference approaches 1.5%. Just as for Scripbox recommended funds, the difference tends to be much smaller for better performing funds.
In any case, the difference cannot be 2.5% because the total expense ratio itself is in that range (for Scripbox recommended equity funds, as on December 2019, this range is 1-2.05%).
What do I get for the 0.15% – 0.9% Scripbox gets in distribution fees?
The fee we earn goes towards meeting the costs of providing a number of services to our investors:
We help you identify and focus on your investment objective. We then help you invest in the best way and in the best investments for that objective.
We offer only scientifically-selected, unbiased and consistently-performing funds that have consistently beaten benchmarks. Result – incremental returns of 3% over the market
Periodic review of funds to ensure that your money is not only invested in the right funds but to also stop investments in funds that don't meet our benchmarks. Result – incremental returns of 1%
We ensure that even one-off costs such as tax on withdrawal and exit loads are as low for you as possible. Scripbox is the only service in India to offer a tax withdrawal algorithm which tells you exactly which funds to withdraw from to minimize taxes. Result – saving in costs of upto 30% of your return.
We automate all the best practices and hardwork of wealth creation so that you don't have to spend time on selecting funds, monitoring performance, making changes, and consolidating your portfolio
Hasslefree access to reports and records – on the app as well as the website, as a Scripbox customer, you have access to your investment history, performance report, tax saving statements, investment gains statements for all funds in one place
Scripbox is the single point of contact for all your needs for across the fund houses you have invested with through us. Scripbox takes care of the important and time consuming aspects such as helping you change address, nominees, bank accounts, etc across all the mutual funds.
The benefit of using our service therefore far exceeds the fee that we earn from you.
But, Scripbox gets commissions every year and it will add up to lakhs of rupees over time?
True. However, the same math also applies to the value of services you get every year. And since the value you receive exceeds cost every year, the additional benefits also add up to lakhs of rupees over time.
Who are direct plans for?
We believe that you should satisfy the following criteria in order to get equivalent benefit in terms of investing outcomes:
You should have a good grasp of the arithmetics of investing (understanding of inflation, compounding and the ability to plan for financial goals).
An understanding of the various objectives of investment: for growth, for income and for capital protection.
An understanding of portfolio construction principles including diversification.
An understanding of the characteristics of different financial product categories – like mutual funds, company deposits, unit linked insurance etc.
An ability to select the right option within the category.
Time and ability to track your investments both from a performance, exit load and tax perspective, and take informed decisions.
The discipline and time to do this regularly over the long term with an understanding of self and the markets' behaviours.
The time to deal with multiple AMCs for any account related issues.
*Update added on 28th May 2021
You may also like to read – how to invest in mutual fund in India online
You would like to read the advantages of mutual funds
You must read benefits and advantages of mutual funds