On 23 April 2020, Franklin Templeton Mutual Fund made the following announcement:
Franklin Templeton Trustee Services Private Limited has decided to wind up following schemes of Franklin Templeton Mutual Fund pursuant to the provisions of regulation 39(2)(a) of the SEBI (Mutual Funds) Regulations, 1996 (Mutual Fund Regulations).
• Franklin India Low Duration Fund (No. of Segregated Portfolios – 2)
• Franklin India Ultra Short Bond Fund (No. of Segregated Portfolios – 1)
• Franklin India Short Term Income Plan (No. of Segregated Portfolios – 3)
• Franklin India Credit Risk Fund (No. of Segregated Portfolios – 3)
• Franklin India Dynamic Accrual Fund (No. of Segregated Portfolios – 3)
• Franklin India Income Opportunities Fund (No. of Segregated Portfolios – 2)
…
This has naturally led to concern in the minds of investors – both those investing in these funds and others who invest in debt funds in general.
What does this mean for investors in these specific six funds?
There is no more investment or withdrawal possible in these six funds. The mutual fund company will do an orderly sale of their investments and return the money to investors. The timeline of this is not yet clear. This step is in a way similar to temporarily blocking withdrawals from a bank.
According to the mutual fund company:
Franklin Templeton will not resort to distress sales of underlying bonds. It will continue to receive interest payment and maturity proceeds from bond issuers. As and when the COVID and bond market liquidity improves, they will try to sell the remaining assets at a 'fair value'.
NAVs will continue to be published on a daily basis
Investors will get monthly payouts against the inflows in these funds. The lenders will have a preference to the unitholders.
Why did this happen?
Franklin Templeton AMC (FT) has had a history of high returns, by taking on higher risk in their debt portfolio. This strategy started to show cracks over the past 18 months, since ILFS, Vodafone, etc. FT created side pockets in these funds to hold defaulting/suspect debt (you will see this reflected in the above list itself).
Our understanding is that recent issues like COVID-19 lockdown, illiquid bond markets, SEBI opening the window for AMCs to borrow to meet redemptions etc. led to further problems. Worried investors withdrew money which further made the problem worse. As the portfolio shrinks, the fund is left with a higher and higher proportion of less liquid and probably riskier investments. The mutual fund borrowed money to pay off redemptions but appears to have hit the regulatory limit for borrowing.
Concerned about a situation where they cannot meet redemption demands, the mutual fund company has decided to effectively side-pocket the entire funds.
Should I worry about other debt funds? Other funds from Franklin Templeton?
This appears to be a situation unique to these specific debt funds from Franklin Templeton.
Logically, we feel that :
1. Credit risk funds are going to face redemptions by people worried about the safety of their money.
Credit risk funds take additional risk to generate an additional return and the current economic environment has led to defaults.
We at Scripbox are not fans of taking extra risk for marginal extra return, and we don't recommend credit risk funds at all.
While there are some well-managed credit risk funds out there, these will get impacted as much as others.
2. Smaller funds/ fund houses could also face issues. Smaller fund size means more liquidity stress in case of redemptions.
3. We expect that there will be some regulatory/ government intervention on this but that is not certain.
But, sometimes issues are compounded by public reaction (panic!) as much as underlying facts and whether this could become a widespread issue is unclear.
No action required for Scripbox investors
If you are invested only in Scripbox recommended debt funds, stay invested. There is no need to take any action or get worried.
This is because :
Our algorithm recommends funds with low credit risk and low interest rate risk.
We eliminate certain categories of debt funds from our recommendations because, by their very nature, they are in the not recommended quadrants
Within the categories we recommend, we also do an analysis of trends in portfolio risk for all debt funds and only recommend funds above a threshold credit risk score.
We ensure that recommended funds are also large to minimise liquidity risk.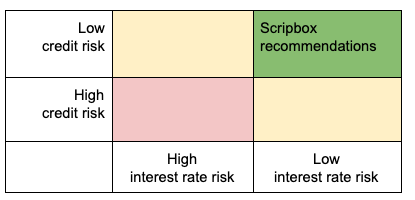 Scripbox recommends a US equity fund from Franklin Templeton. Is that OK?
Yes. The International fund of funds that we recommend is a feeder fund that invests in a diversified fund managed by Franklin Templeton in the US. We continue to stand by this recommendation and do not suggest any action.
What if I have debt funds other than what Scripbox recommends, what should I do?
If you are invested in other funds, in most cases there is not likely to be a reason to worry. You can see our view on the funds you are holding by following the link below. Just search for your fund and we will display a fact sheet with our view on the fund.
If your debt fund is classified as "not recommended", you should exit the fund and re-invest your money in Scripbox Short Term Money.