While Indian investors have had a relatively decent year so far, the beginning of this financial year was sluggish to be sure. The primary reason was the second wave of the pandemic that started in April 2021.
However, the Indian equity market ended in the green despite the Russia-Ukraine tensions, increasing commodity prices and FII outflow.
The Large Cap Index (Nifty 50 TRI) was up by 18%. The broad market index Nifty LargeMid 250 TRI was up by 20%. Finally, the Nifty Midcap 100 TRI was up 23% this year.
The Macro scene
Commodity prices have skyrocketed due to the Russia-Ukraine war. The price of Crude oil rose to $112 per barrel from $58 per barrel in this fiscal year. The global supply disruptions led to steep price increases in gas, edible oil, fertilizers, steel etc.
The ongoing war is expected to have some impact on India's Economic growth and inflation too. In addition to these aspects, the spread of COVID 19 across countries and measures taken to contain the infections have led to supply chain disruptions – especially in the semiconductor space.
The Government focused on capital expenditure in budget FY23 in order to boost economic activity. The government has done well in collecting tax revenues. The advance tax collection was shot up by 41% in FY22. The Goods and service tax (GST) collection has been increasing throughout this fiscal year. All these are indicators of economic recovery amidst geopolitical tensions.
Given the economic activity and the current demographics, we are of the view that the Indian Economy's long-term growth remains resilient.
We continue to believe that equities will perform well in the long run.
The performance of Scripbox Long Term Wealth over the past few years is shown below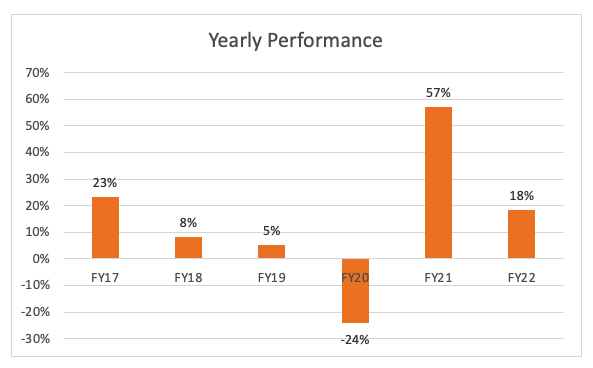 1. Equity Market Performance
In this Fiscal 2021-2022 (until Mar 21, 2022), The Nifty 50 TRI return was up 18%. The broad market index Nifty LargeMidcap 250 TRI return was up 20% and the Midcap 100 TRI index return was up 23%. The corresponding three-year CAGR return of these indices are as follows: Nifty 50 TRI :15%, Nifty LargeMidcap 250 Index TRI:18 % and Nifty Midcap 100 TRI: 18%.
Over the last decade, the Nifty 50 has returned a CAGR of 12% whereas the Nifty Large-Mid cap returned a CAGR of 16% and the Nifty Midcap returned 15%.
We recommend considering equity as the right asset class for long term investment. It has rewarded investors fairly well in the long term.
2. Equity Funds Performance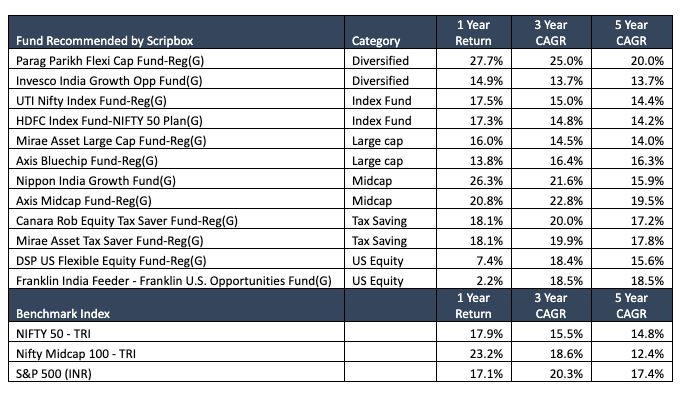 Among Scripbox recommended funds, few funds have outperformed the benchmark in all periods and few funds have underperformed the benchmark. We would recommend Equities as an asset class in your portfolio If you were looking to create wealth over the long term.
3. Debt Funds Performance

Debt funds are meant for capital protection rather than growing your money. Liquid funds can be considered for your emergency reserves. It provides a high level of capital protection.
For achieving your short-term objectives, you may consider the blended approach with allocation to the three categories that include Liquid, Ultra-short duration, and Low duration.
In recent years, the Indian economy has seen inflation that is more or less under control. Given the growth ambitions that we have, interest rates have been low – which will spur economic activity.
The low-interest rate environment is clearly visible with returns on Fixed Income instruments showing a lower return in the shorter duration holding periods as against the long term trend. We believe that investors in debt funds will do well to moderate their expectations.
4. The Core Idea of Scripbox
We have built a proprietary algorithm that leverages our deep domain expertise with our research process to curate investment portfolios for our customers.
The reliance on a rule-based portfolio construction process ensures that there is no human bias that creeps into the selection of funds. It is our strong belief that investments should be evaluated and measured from a long-term perspective and with a focus on wealth creation. Time is the most important factor at work.
All incremental investments will be in the latest set of funds, whereas some of the older investments will continue unless there are specific reasons to exit these funds.
At Scripbox we continue to track and monitor each fund very closely and we will reach out to our customers when we believe that an action is required from a portfolio change perspective.