Cryptocurrency is the talk of the town these days, at least in the financial world. Last year Bitcoin, the flag bearer of the cryptocurrency world, was up by 845% (in dollar terms) as compared to 64% and 2.6% appreciation in Sensex and gold prices respectively. Ever since the Supreme Court lifted the RBI ban on cryptocurrency trading, investors have been flocking to bitcoins. Is it worth investing in bitcoins or other cryptocurrencies at this juncture?
First of all, let's understand Bitcoin.
Bitcoin has evolved from a research paper published in the aftermath of the Global Financial Crisis of 2008 by a pseudonymous person named Satoshi Nakamoto. It was originally meant to be an alternative for a fiat currency (rupee, dollar etc) and a medium of exchange between two interested parties. However, bitcoins along with other cryptocurrencies also started getting traded in the exchanges as well.
Bitcoin and other cryptocurrencies like Etherium and Litecoin are digitalized currencies that use digital files as a mode of exchange instead of paper cash. It is completely decentralized in its working and operates independently of a central bank that usually controls the supply of currencies.
There are close to 9000 cryptocurrencies in the world, according to Coinmarketcap.com. Bitcoin leads with a market share of 59% followed by Ethereum (11%). Bitcoin is currently trading at about $55,200 or Rs 40 lakh a unit. Investors can however own a part of bitcoin by investing as low as Rs 100 in the exchanges.
Crypto transactions are secure and confidential by nature. However, it does come with its own challenges:
Lack of inherent value
When a stock or stock index prices go up, it could be linked to its inherent value, which is the company's business and profit. In the same vein, gold has derived economic value from its demand for jewellery fabrication and industrial applications amongst others. Historically, gold is also favoured by investors as a hedge against inflation. In contrast, bitcoin price movements have no basis and often vacillate on speculative news.
Supply constraints
Bitcoin supply is predetermined at 18 million throughout its life-cyle. About 89% of it is already in the market while another 900 bitcoins are added every year through mining operations. It is estimated that by 2140 all the coins will be mined. So, the expected scarcity is solely driving the prices higher in the crypto market.
Bitcoin prices were very volatile in 2017. From about $ 900 witnessed during the beginning of the year, it was up 15 times by the year-end. By 2018, it had corrected sharply to settle at around $ 3,700. Such volatility happened without any fundamental reason whatsoever. Similarly in the last year, prices were up by more than 8 times.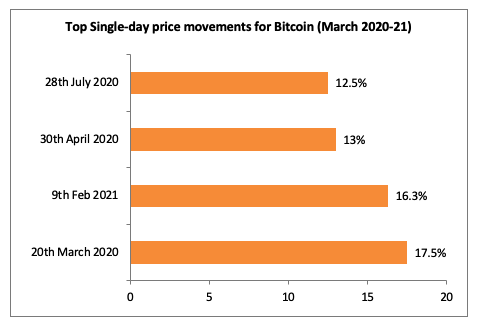 Furthermore, daily prices variations are much more for Bitcoins. In the last year, bitcoins were found to be twice as riskier as compared to that of Sensex – with the standard deviation of its daily price returns being twice that of Sensex.

Bitcoin prices were also found to be moving in sync with equity markets, albeit with a very weak correlation. Such sharp fluctuations without the backing of fundamentals make it a poor candidate for becoming an alternate asset class for investors.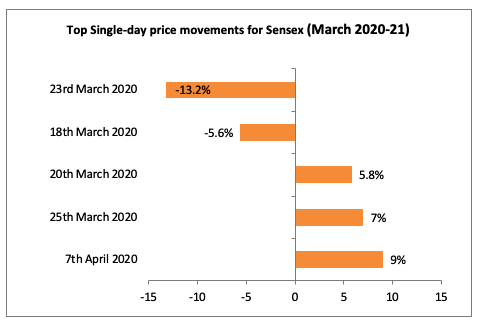 Security issues
There have been regular instances of theft and cyber-attack on cryptocurrency exchanges. While some were direct hacks of the exchange platform, some others were due to exploits of external tools (e.g. wallets). As early as 2019, there were at least seven such instances including that on the global leader Binance.com which led to $ 41m in losses to its investors. While Binance.com compensated investor's losses from their security fund, others did not. Also, Indian crypto exchanges are still in a nascent stage.
Regulatory uncertainty
In April 2018, the RBI had banned crypto transactions and alerted all banks to stop dealing with private cryptocurrencies. However, in March 2020, the Supreme Court quashed the 2018 RBI ban on cryptocurrency trading and currently, there is regulatory uncertainty.
A high-level Inter-Ministerial Committee constituted by the Government is exploring cryptocurrency as a legal tender. However, it is more likely that private exchanges might be banned in India which in turn could leave existing bitcoin investors in the lurch.
What should investors do?
With such huge price fluctuations and lack of inherent value, bitcoin hardly qualifies as an alternative asset class. With regulatory uncertainty as well, it's better to wait and watch. Serious investors should think before investing in cryptocurrencies for the above reasons.