From the 1st of April, 2020, the Central Government sharply reduced the interest rates of various small saving schemes.
Interest rates on PPF have been reduced from 8 per cent to 7.1 per cent for the April-June quarter of 2020. Similarly, the interest rate on National Saving Certificate (NSC) is down by 110 basis points to 6.8 per cent, while that of Kisan Vikas Patra (KVP) is down by 70 basis points to 6.9 per cent.
Since April 2016, interest rates of small saving schemes have been linked to the market rate (yields of government bonds) and adjusted every quarter. And with yields of government bonds currently quoting at multi-year lows, interest rates on small saving schemes have also dropped to record low levels.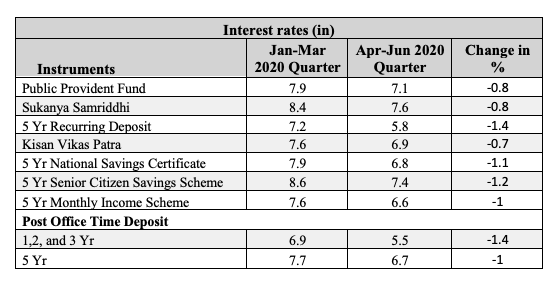 Time deposits took the maximum brunt of the rate cut, where the interest rates were cut by 140 basis points for one, two, and three years. The five-year deposit rate was down by 100 basis points to 6.7 per cent. However, its rates were still better than the revised fixed deposit rate of major banks.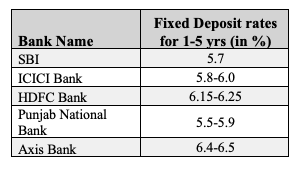 Post the recent repo-rate cut of 75 basis points done by the RBI, banks revised interest rates on Fixed Deposits (FD) across all tenures. For an FD of one to five years, SBI brought down the interest rates to 5.7 per cent, while it was hovering around 6-6.5 per cent for many private banks. Losing purchasing powerAt current rates, time deposits of banks and post office are unlikely to keep your purchasing power intact. In the last 10 years, consumer inflation for industrial workers has averaged 6.7 per cent. On a post-tax basis, most small saving schemes (including NSC and KVP) are likely to erode your wealth. While interest rates on PPF are relatively higher at 7.1 per cent, and this works out better on a post-tax basis, it is also subject to interest rate movements in the economy.
As an investor, first of all, check the impact of the interest rate axe on your financial goals.
Check your plan
As an investor, first of all, check the impact of the interest rate axe on your financial goals. For instance, if you were investing in Sukanya Samriddhi to sponsor your girl child's education or marriage, know that its interest rate is down by 80 basis points to 7.6 per cent. Perhaps you need to save more to achieve your financial target. Also after the rate cut, investing in KVP, would double your money only in 125 months as against 113 months earlier. If you had a financial plan that predominantly piggy-backed on investments in small saving schemes, arrive at gaps, if any, after the interest rate revision.
Adopt growth
To bridge the gap, you can adopt growth as part of your investment strategy. Investing in equities could yield about 10-12 per cent annually over the long-term and is best poised to beat inflation among all the asset classes. However, tweak your asset allocation in favour of equities to the extent you are comfortable with as well as your objectives. Investing in ELSS will entitle you to Sec 80 C benefits. Ensure you invest in equity funds with an investment horizon of at least seven years.
Stay away from risky bonds
With the fall in interest rates, one might be tempted to chase bonds with higher coupon rates. However, it might be a riskier proposition – given the vulnerable economic scenario in the country.
Takeaway
Small saving schemes have further lost their sheen after the recent rate cut. Consider equities in your portfolio to prevent wealth erosion and for achieving inflation-beating returns for your wealth over the long run.