What is changing?
From the 1st of February 2021, the Net Asset Value (NAV) date applicable to all mutual fund purchases will be the date on which funds are received by the fund house (or AMC).
Earlier fund houses could provisionally allot units at the NAV of the order placed date while the funds would come in later through the payment systems. Provisional Allotment was done only for non-liquid non-overnight fund orders below Rs 200,000. This provisional allotment is now discontinued.
This change is pursuant to a circular published by SEBI amending the existing NAV applicability norms. Irrespective of the order size, NAV applicable to all mutual fund purchases will be dependent on the time of realization of funds.
What does this mean to you as an investor?
You may not get same-day NAV if you use payment modes other than Net Banking(Direct) or UPI.
The time taken for the realization of funds depends on the payment mode. The below table shows when the NAV allotment happens based on the chosen payment mode.
If you were doing a one-time investment with Scripbox, based on the payment method you used, the units allotments are shown below:
"T" here refers to the Transaction date when the order was placed before the cut off time
For all Scripbox orders
Revised on 1st June 2022
For all BSE orders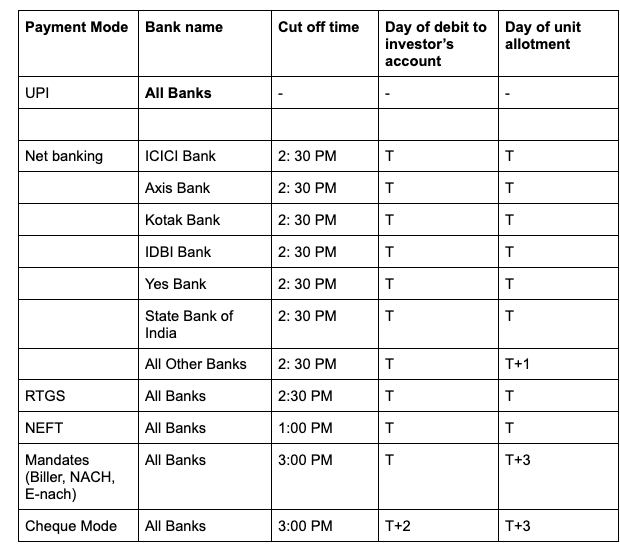 What happens if I place an order after the cut-off or on a Non-working day?
Post the cut-off time or on a non-working day, in the case of UPI and Net banking payment methods, the debit will happen on the day of payment. The unit allotment happens on the next working day.
In the case of mandates, the debit happens on the next working day and the unit allotment happens on the T+2 working day.
If you were investing via SIP through bank linking mode, the unit allocation will be as below:
For Scripbox orders
"T" here refers to the SIP date.

For all BSE SIP orders

Will there be any impact on the processing of Switch and STP orders?
Yes, since switch and STP orders are a combination of withdrawal & purchase, the units are withdrawn from the fund you are switching out of and units are purchased in the fund you are switching into.
The Switch out will be processed on the "T" day and the NAV will be applicable as on "T" day. Switch in orders will get processed only after the switch out get settled.
So, if you are switching into a fund "B" from an equity fund "A" with a redemption cycle of 3 business days. NAV of order day will apply to the switch out order from the fund "A". NAV of T+3 business days will apply to the switch in order in the fund "B".
The redemption/switch-out cycle depends upon the category of fund you are switching out from.