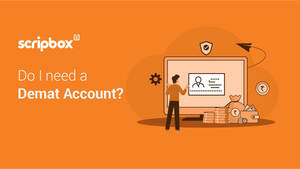 Do you have a bank account? Mostly, you'd say yes- maybe you even hold multiple bank accounts.
A Demat account is something like a bank account. Only thing is, instead of money held in your bank account, Demat holds your securities - a form of shares, bonds, or debentures.
If you wish to buy securities in the stock market, you first need a Demat account. Here's everything you need to know about opening a Demat account.
What is a Demat account and when do you need it?
A Dematerialized or Demat account is an electronic account where your securities are held, serving as an alternative to physical certificates.
In order to buy and sell securities in the Indian stock market, it is necessary for you, as an investor, to open a Demat account with a Depository Participant (DP).
What are depositories and depository participants (DPs) in Demat accounts?
Depositories are organizations that hold your securities electronically and also facilitate transacting. The two depositories registered with SEBI are National Securities Depository Limited (NSDL) and Central Depository Services Limited (CDSL).
Depository Participants (DP) act as agents between depositories and investors. In order to avail the services of a depository, you need to go through a DP. The account you need to have with a DP is referred to as a Demat account.
What are the benefits of a Demat account?
Your shares and securities are securely held
The transaction cost is significantly lesser compared to the physical segment since you don't have to pay stamp duty
Convenient and fast for electronic settlements
Reduced paperwork in case of transfer of securities
Risks associated with physical certificates, such as thefts, non delivery, and fake certificates, are eliminated
Sell any number of shares you want- even one
Invest online
What are the fees associated with opening a Demat account?
Most DPs do not charge a fee to open a Demat account. Some offer refundable account opening charges while others have a fixed charge.
There are also other charges such as transaction fee, annual maintenance fee, and charges for converting shares from physical to electronic format - in case you need physical shares to be converted to Demat form.
How do you open a Demat account?
You can open a Demat account with a depository participant (DP) registered with SEBI- a list which you can download here.

Once you receive the copy of the terms of agreement, the rules and regulations, and the charges that will apply, you need fill in the account opening form.
Make sure you add a nominee when opening a Demat account.
Submit all the required copies of documents. Mainly address proof, ID proof, and your PAN card
The DP staff will then contact you to conduct in-person verification
Once the verification is satisfactory, you will receive your Demat account details from your DP
It typically takes one to two weeks to open a Demat account. There is no mandatory requirement to maintain a minimum balance of shares when opening a Demat account.
You can open multiple Demat accounts in the same name with different or the same DP.
What are the KYC norms to be fulfilled to open a Demat account?
In order to prevent fraudulent activity, a customer identification process known as KYC (Know Your Customer), has been introduced. According to SEBI, you need to fulfill KYC norms to open a Demat account. Here's what is required to fulfill the KYC norms:
Proof of identity – You need to have a PAN card, passport, voter id card, or Aadhar card.
Proof of address –You need to have a passport, ration card, bank statement, utility bills or driving license.
Bank account number held in your name
Once you open a share trading account and have a valid Demat account, you can start buying securities online.