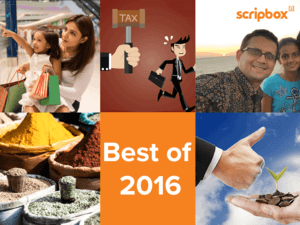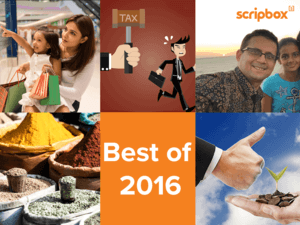 We love sharing financial wisdom with all of you and it looks like you like receiving it as well!
For those of you who missed out on the most popular Scripbox articles this year, here's a ready list of the most read articles in 2016, for you, to stay ahead and keep your money skills sharp.
So, read, share, enjoy, and tell us what you think.
#1. 4 Things You Must Know About Taxes (If You Want To Pay Less)
You have about 3 months left to file your taxes, here's a simple way to do this in the most efficient way, so as to save the maximum you can. Trust us, it does not get simpler than this!
#2. So how does it feel to be a long-term investor? (Especially when the markets drop)
Afraid of negative returns from the stock market? This simple graphic will explain you why it's best to invest in equity in the long run, and how every bearish instance is only a temporary phase.
#3. "Overnight Success Takes 10 Years And So Does Becoming Financially Independent" – Interview With Scripbox CEO
Learn from the horse's mouth about becoming financially independent with SIPs, major influencers in his life, and everything in between that made him a successful investor!
#4. 6 Parenthood Expenses That Didn't Exist 5 Years Ago
With the advancement in technology and the ever-so-competitive lives of youngsters, especially children, there are new added expenses. Here's how you can save up for some of the important expenses, without compromising on your lifestyle.
#5. How I Ended Up Saving Rs. 18,000 a year on Grocery Shopping
We are all guilty of over-indulging on every grocery store visit. But you will be surprised to find out how much money you might be losing to these frequent impulses. Here's a checklist of simple things you can do before your next trip to the grocer's, to save time, energy, and most importantly your hard earned money.
Hope you feel more financially empowered after following the tips in these short reads.