Compounding magnifies the loss of return due to taxes.
We have earlier talked about how taxes hurt your returns and why you should consider post tax rates of return when you make investment choices.
However, seen in percentage terms the effect of taxes still appears small. What we don't always realise is that with compounding, taxes have a very large impact over time. This is specially true of investments where tax is deducted every year – as in the case of Fixed Deposits and other interest income.
Your overall gain is reduced by:
The fact that your return after tax is lower
The amount which is invested for the next year for compounding is also lower
Here's what happens with time. The cost of taxes also compounds each year!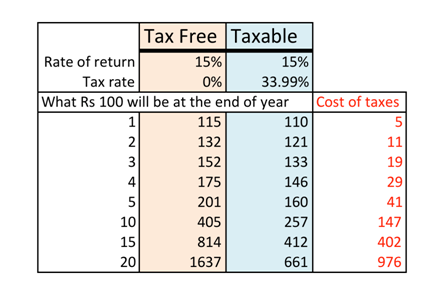 Over 15 years, you lose just a little over half your return in taxes. Over 20 years, this loss is almost 2/3rd of your return.
There are two conclusions from this:
Always look at post tax returns when evaluating investments.
Planning for taxes is an important component of investing. Tax planning can help you improve your over all returns.
At Scripbox we have incorporated this aspect into our algorithm and product offering.
Equities are expected to give returns well above inflation over time
The Scripbox rebalancing algorithm takes this factor into account and helps you get the most from your investments