We woke up this morning to the news that we were ranked as the 2nd most influential financial services brand on Linkedin – worldwide! (Ahead of global finance industry giants, such as American Express, Allianz, and Morgan Stanley).
It's a proud moment for us to see the name of our small company from Bengaluru rank amongst the best financial services brands in the world. We don't know what got us here, but we would like to believe it's our single minded pursuit of making the world of finance seem simple and real for hard-working Indians like you. Your comments and e-mails had told us that we were making a difference in an industry overwhelmed by complex jargon, but this is a pleasantly surprising measure of how much.
Here is the coverage of this achievement in Times of India.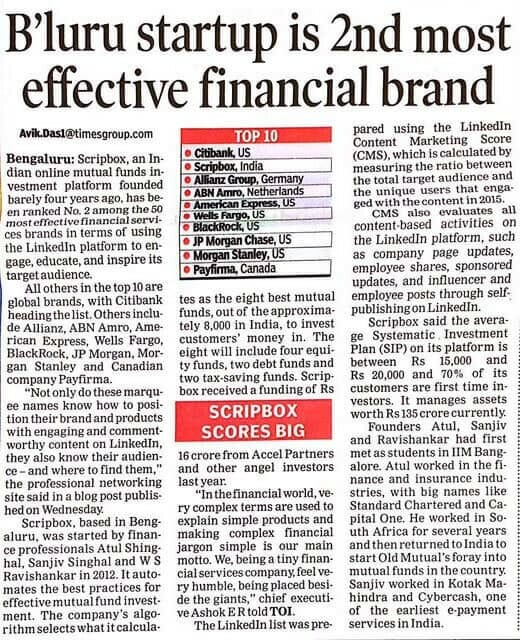 We wanted to share this with you because your feedback has been a source of inspiration for us. This recognition further strengthens our commitment to you and our mission to simplify personal finance.
– Scripbox Team
This ranking appeared on LinkedIn's Company blog and you can read all about it here
Here are some articles that helped us become influential on LinkedIn: