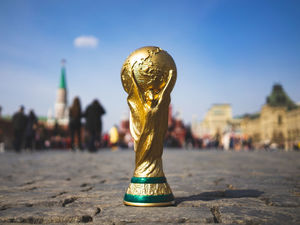 Yes, you read that right. Rs.100 a day is all it takes for you to watch the FIFA World cup 2022 in Qatar. Watching football legends in action in a World Cup Final is a dream for any football fan! And it's possible, if you start today. How, you ask? Read on:
Step 1: Calculate your expenses
Here are the most important costs involved
Flight tickets - If you book your tickets at least 2-3 months in advance, it'll cost Rs.30,000 for a round trip
Accommodation - Considering inflation and FIFA season, a decent budget accommodation might cost Rs.5000 per night
Food - While breakfast might be complimentary in some hotels, an approximate cost of food at Qatar will be Rs.3000 per day
Miscellaneous expenses - This includes basic shopping, transportation and the sightseeing that you might sparingly do during your stay there. Approximate cost of this is Rs.25,000
World cup match tickets - This depends on the match you plan to see. If you want to see both semi-finals and the finals, it'll cost you a total of Rs.45,000. Watching just the finals would cost Rs.30,000 approximately
Your FIFA World cup 2022 trip to Qatar will approximately cost Rs.1,27,000. The assumptions made to arrive at this sum are:
This trip is of 3 nights and 4 days

Includes tickets for both the semi-final and finals
Step 2: Invest
The FIFA World cup 2022 starts from 21st November, so you have 3 years and 7 months, starting from March 2019.
A SIP of Rs.3,000 per month (Rs.100 x 30 days) would yield a return of about Rs.1,33,000* which is slightly more than the estimated sum. If you choose to increase your SIP by 10% every year, your returns will be Rs.1,46,700 approximately.
Scripbox Short Term Money can help you invest in the best funds to meet your goal of watching the FIFA World Cup 2022 live. Start today to reach Qatar on time!
P.S. This might be your last chance to see your favourites, Messi and Ronaldo strike. They will be 34 and 37 respectively. #Youneverknow
*Invested in debt funds that offer an approximate return of 8%.
Mutual funds are subject to market risks. Please read the offer document carefully before investing.