For many retired defence services personnel, owning a property with the intent of generating rental income seems like a default option to supplement their pensions. Considering that most have some form of ancestral property or land in their possession, real estate seems like an investment they understand. This is especially so if they are not comfortable with financial investments that go beyond their DSOP fund and Provident Fund.
This leads many to construct or buy one or two residential properties beyond where they intend to live when they retire. The idea is to use the rent as additional income. The question though, is that is it worth it?
Now we first need to understand why one selects any asset class for investing.
1. Capital Appreciation
The number one reason that almost anyone will agree on is "Capital appreciation". If you bought something for one lakh, you would ideally want it to become worth much more than that over time. The rate at which the appreciation happens tells you that it's the growth rate or as is popularly known, the "return". Now, where does real estate stand here?
The good news – Residential housing prices in the country have more than tripled in the past decade. We are sure you would have heard stories of people who became rich just because they brought a flat for a few lakhs in the 90s which is now worth more than a crore. Let's look at some real numbers now.
Now while the headline is exciting, let us translate that to numbers: It has appreciated by 13.8% annually for the period Mar'09- Dec'18, as per NHB Residex data (All-India) – beating consumer inflation by a wide margin. During the period, prices in Delhi (15.9%), Mumbai (15.7%) and Kolkata (15.3%) saw the maximum increase followed by Chennai (10.6%) and Bengaluru (10.0%).
While this looks good, it pales in comparison to what a decent equity mutual fund delivered in the same period. Equity performance as measured by Sensex was up by 14.4% during the period. Some equity funds did even better. 20 equity funds (excluding pure midcap, smallcap and sectoral funds) gave an average annualised return of 18.3%.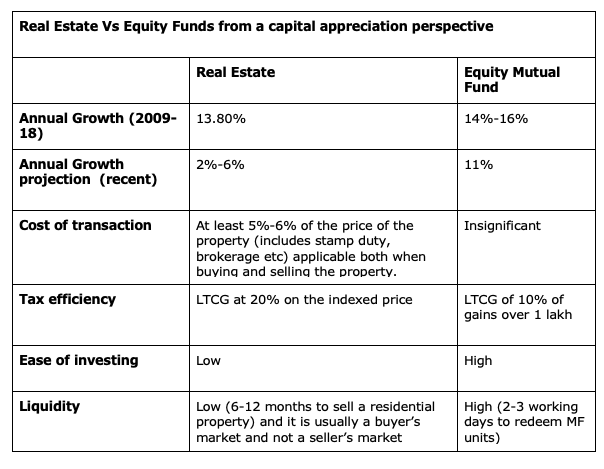 2. Income generating ability
If you buy something that gives you a regular source of cash, well, then that's great for someone who is looking for that. This is normally the objective for retirement planning. A regular source of cash is critical when you are trying to find a way to replace your salary. For you, that's generally not as big a problem as you do have a pension after all.
Rental yields are about 2%-3% per annum. For instance, a house property valued at Rs 1 crore might fetch Rs 21,000 – Rs 25,000 in rental income every month. This varies with the location. Factors like open spaces, amenities, proximity to schools, hospitals and mass-transit transport systems affect the rent of a residential property.
Furthermore, the higher the property value, the lower has been its rental yield as rental yields generally can't cross a certain threshold or people will simply move to something they can actually afford.
A stable liquid fund, on the other hand, is expected to deliver around 6% annualised returns going forward. This translates to roughly Rs 50,000 per month if the same crore were invested there. The ease of investing the same amount into a debt fund versus buying a good property is another factor to think about.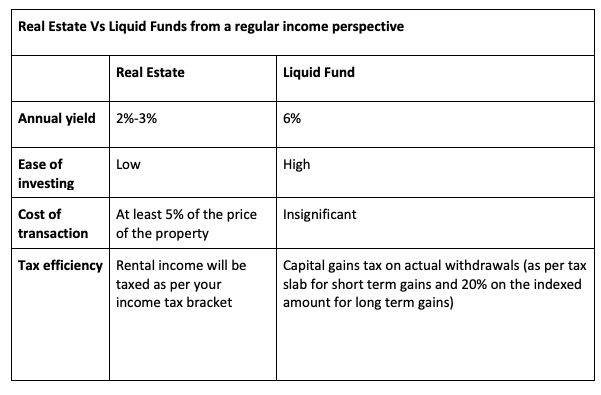 Also, you need to provide for the bad phases.
But what if you have already invested in residential real estate for the purpose of rental income?
Real estate had been trumped up as a great investment in India, for so long that one can't be blamed if they bought into the story. Add to that the feeling of tangibility that comes with Real Estate, and it becomes obvious why so many actually thought it made sense.
We don't know how permanent the trends brought on by this pandemic will become. It has definitely exposed the fragility of real estate as a source of regular income, as long term work practices change where people would prefer to live and work from home.
Well, if you already have real estate for rental purposes that doesn't seem to be adding any real value, then consider this. Would selling the property and investing the proceeds in a good liquid fund give better results than the rent you are earning now?
Do take into account the capital gains tax implications of selling the property. You can, however, invest the proceeds in capital gains bonds to save on capital gains. What you need to consider is whether the current rental yield is at least at par with an FD, if nothing else.
If it is not, then unless you have an emotional attachment to the property, then a "retreat" might be in order. Talk to your family members who have a stake and a financial/wealth advisor to get a fair assessment of what's the right way out. From an inheritance angle, unless the property is in a lucrative location, your children might actually thank you for liquidating the property.
It would be prudent to reassess your residential real estate holdings above and beyond what you need to live and decide on liquidating them if they are simply blocking capital that could otherwise give you better growth in financial assets.