The portfolio of mutual funds recommended by Scripbox has done well in 2013 with a performance equivalent to #4 of the Top 25 funds by size; given a positive return close to the Nifty in a period when most of the Top 25 equity mutual funds have given negative returns; and performed better than 82% of the money invested in equity mutual funds. (As on 30.11.2013)
The core idea of Scripbox, is to use a scientific and proven algorithm to select a diversified portfolio of equity mutual funds. This is done without any bias with performance as the sole criteria. Year 2013 is the first full year where investors have experienced the Scripbox approach. As we near the end of the year we have adequate data to objectively analyse how the selection has performed.
How do we evaluate our selection of funds?
The first is to compare with our established benchmark – the Nifty.
The second is to compare with another realistic alternative for investing in equity mutual funds. Given that almost 72% of equity mutual fund money is in the Top 25 funds by size, it is very likely that, as an alternative to Scripbox, you would have invested your money in 4-5 of these top 25 equity funds. Therefore we also compare our selection to that.
Report Card How did the Nifty & Top 25 funds do in 2013?
The Nifty is up 4.6% for the year. (up 27.7% in 2012)
Only 3 of Top 25 funds performed better than the Nifty.

ICICI Pru Dynamic Plan
ICICI Pru Focused Bluechip Equity Fund
Birla Sun Life Frontline Equity Fund

13 out of 25 (more than half) of the funds gave a negative return.
The median return of Top 25 Mutual Funds was 4.4% less than the Nifty – or only 0.2%.
And how did our recommended portfolio do in comparison?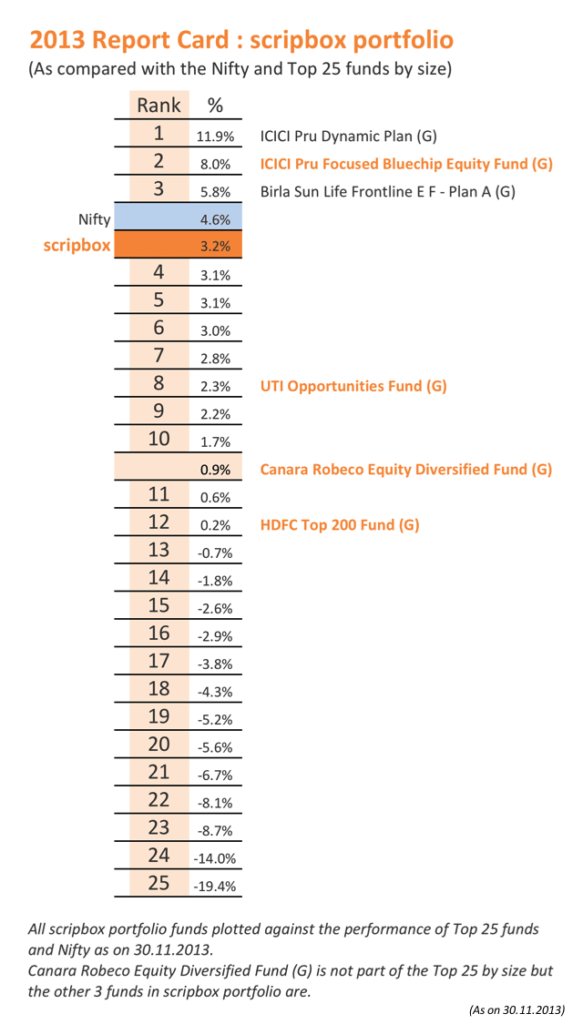 The selection gave a positive return and performed better than 22 of the top 25 funds.
The return was slightly lower than the Nifty at 3.2%. (28.6% in 2012, 1% higher than the Nifty)
One of the four funds in the selection did better than the Nifty – ranking number 2.
All four of our recommended funds gave a positive return and ranked 12 or higher.
If the Scripbox recommended portfolio was a mutual fund, it would rank at number 4 in the Top 25.
The selection performed better than 82 % of all the money invested in equity mutual funds.
The range of performance shown by the Top 25 Funds also clearly demonstrated the benefits of a diversified mutual fund portfolio.
What's Scripbox doing about doing even better?
As we all know, perfect predictions are impossible but this is as close as it gets and we're proud of it. We would love to hear from you on how you feel we performed against your expectations.
There are 3 elements to the disciplined investing approach that Scripbox promotes:
Scientific selection: We constantly try out different alternatives to improve our selection algorithm. So, having taken 2013's performance also into account, we're confident that our algorithm is successful at picking the right set of 4 mutual funds.
Periodic review and change of selected funds: This is designed to automatically correct any short term aberration. We're crunching the data right now and will be announcing our selection for 2014 shortly.
Regular investing: Inspite of the below par performance of the Nifty in 2013, most of our investors have seen significantly better returns because they invest every month and therefore benefited from down turns in the market. We encourage you to continue doing so.
A reminder: Past performance is not a guarantee of future returns. Please spend some time to understand how Scripbox works and review the offer documentation of the recommended mutual funds.
(data for this report card is as on 30.11.2013)