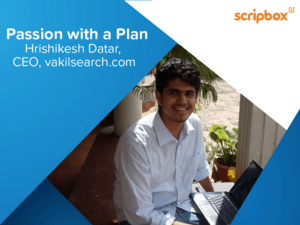 Hrishikesh Datar heads the Chennai Based online legal services provider Vakilsearch. They help young companies and Small and Medium Businesses with activities such as company registration and trademark registration. He is a 28 year old lawyer turned entrepreneur who has had an interesting start-up journey. He has seen ups and downs and along the way he has learnt a lesson or two when it comes to personal finances.
Scripbox: Why did you launch Vakilsearch?
Hrishikesh: Legal services in India are a mess and for the average person, navigating the legal system is a painful exercise. I first mooted the idea at an IIM Bengaluru event, where it was greeted with interest and approval.
What we do is akin to providing a glass of cold water to someone in hell. We make legal services for young companies a much simpler affair than it has been traditionally.
Scripbox: Were you financially ready for this project? Where did you source your initial funding from?
Hrishikesh: I have the luxury of parents who are financially self-sufficient enough and went along with my entrepreneurial plans. The seed of this idea had been planted while I was still at National Law School of India. I used to do freelance writing assignments at the time.
The savings from my freelance assignments and funds from family and friends helped with the initial seed capital. Was I financially ready? To an extent I was.
Scripbox: Did you have a plan in mind about how to manage your financial needs before starting the project?
Hrishikesh: The advantage of the business I am in is that it is a zero inventory business and most costs are fixed. We bootstrapped the company and used our own revenues to grow for the first 3 years of the business.
While I didn't have an exact plan in mind, I have been a saver of sorts and have been financially conservative. This helped me a lot.
Scripbox: Did you have to cut back in terms of lifestyle?
Hrishikesh: I have never really been a spendthrift, but yes I had to be very particular about my money during the initial years as we knew that managing our finances well would be the key to surviving in the initial tough years. This meant my discretionary expenses were kept at a bare minimum.
Scripbox: Were there any particular incidents that showcase the kind of challenges you were facing?
Hrishikesh: Yes. I remember this one time when I went for a dinner with my friend. This was a few months into the business and I thought I had enough cash in the bank (I remember seeing a few lakhs a few months ago in my account).
When it came time to pay and I swiped my debit card, the transaction failed due to insufficient balance. I was taken aback. Thankfully, my friend paid. This incident showed me that I had not kept track of expenses which tended to mount up when you are bootstrapping your company. This was a lesson I never forgot again.
Scripbox: What were the other lessons such an incident taught you?
Hrishikesh: Financial literacy is extremely important and the lack of financial sense is why a lot of start-ups fail. I only use debit cards and keep a strict watch on my account as well as spends. I still drive the same car I had bought a few years ago. Owning your own business makes you a lot more responsible. You tend to be more careful.
Scripbox: Was money important to your sense of well-being and happiness?
Hrishikesh: While you need a certain amount of money to sustain a good life; I just need enough money to do the things I want to. If I don't get a penny more I wouldn't mind. I do not want money for the sake of money.
Scripbox: What is the one lesson you would like our readers to learn from your experiences?
Hrishikesh: The obvious lesson is to be financially literate. If I could start again I would definitely plan better and focus on better financial management.
As I have said, most start-ups fail due to the lack of financial savvy. The importance of a financial education cannot be overstated.
This series by Scripbox talks about how entrepreneurs are turning their dreams into reality. We will focus on the financial aspects of their journey and how their relationship with money helped them realise their entrepreneurial dreams