We can't be sure of Donald Trump's future, but most turkeys who spent their last thousand days enjoying the good life are going to see a drastic change in fortunes. If you're wondering what that has to do with investing, well, the markets will obviously be impacted by the presidential election. Oh, you meant the turkeys? We'll get to that in a bit. But it does seem that birds of all sorts fly into trouble in November. Take another example – the Spruce Goose, officially called The Hercules.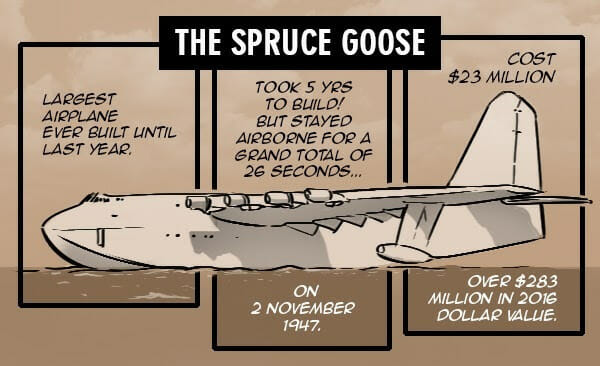 There's clearly a lesson here too, but before we get to it, let's take a look at the high-flying markets.
1. While market volatility continues, there was no drastic fall despite the IMF revising their predicted contraction of India's FY '21 GDP from 4.5% to 10.3% from the June forecast of 4.5%. But then again, the market was also indifferent to the Rs.73,000 crore stimulus announced by the government.
2. What is rising though is inflation – 7.34% in September compared to 6.69% in August. This time, it was the RBI's turn to be unmoved. The repo rate remains untouched, mostly because it expects inflation to ease in the next few months.
3. But guess who's making moves? SEBI, which continues to be an active regulator, and taking measures to improve transparency. Mutual fund companies now have to rename dividend plans, and communicate clearly that a portion of the investor's capital can be distributed as a dividend, to prevent mis-selling. SEBI has also added a "very high risk" to the current five Riskometer depictions that go from low to high risk, to be shown at a category and scheme level. Lastly, it has directed that inter-scheme transfers for liquidity will be allowed only after all other measures like cash, borrowing and selling securities, have been exhausted.
4. The economy is also on the move. With Covid cases dropping, it seems safe to say that while the volatility might continue on account of the US elections, we won't have a sequel to the mad March we had. Exports have risen by 5.27%, the first upward trend in six months. India maintains its venture capital lustre as investments more than doubled to $3.6 billion in the last quarter, egged on by edtech. And to get back to flying, visa restrictions are slowly being relaxed.
November is Thanksgiving time, and that's also when turkeys learn a fatal lesson – the great food they got for the last 1000 days does not guarantee anything on the 1001st day. In fact, that's when they become food! In other words, don't be overconfident when using the past to predict the future. In the case of the Spruce Goose, the US War Department didn't start reviewing its progress until it was too late. It was intended for use in World War 2, but was delivered in 1947! It might have had a better future, had there been regular reviews and course corrections.
The lessons from both the birds, The Spruce Goose and Turkeys, are clear. There's really no reason to fly blind on your investments! Thank you for reading.
Indices and benchmarks in October
Equity

Debt