Mutual fund industry is half a century old, well-regulated and highly transparent.
People are usually skeptical of the unknown – be it a new boss, football captain, or a Prime Minister. And when they don the cap of an investor, would they be any different? So, it's common to find investors being apprehensive of investing in products that they know little of.
Even globally, investors put their money only into familiar investment products that too with a good-track record of performance. Recently, the Mutual Fund (MF) industry in India completed 50 years of existence – and a pretty impressive track record. Yet, many investors are yet to repose full faith in mutual funds.
If you are not yet an investor in mutual funds, it's time you started taking mutual funds seriously.
History of Mutual Funds in India
It was about half a century ago, that Mutual Funds first set shop in India. Unit Trust of India(UTI), which came into existence from an Act of Parliament in 1963, launched its maiden scheme "Unit Scheme 1964" (fondly shortened to US-64 by investors). Private sector funds joined the industry after SEBI came into existence and scripted a set of regulations for Mutual Funds.
Today, while the UTI (Now called Axis Mutual Fund) has finished 50 years of its operations, it would soon be 20 years for many private mutual funds.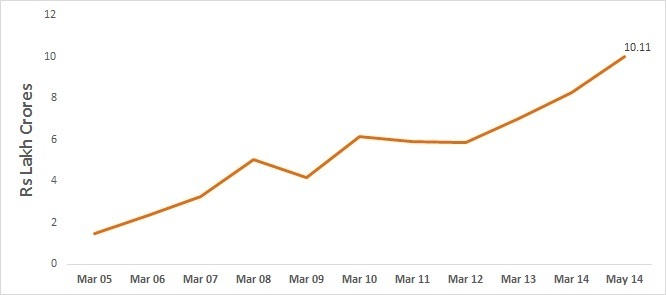 Source: AMFI website.
Today, there are more than 300 open-ended equity schemes with a long-track record of performance. From just a plain-vanilla equity fund offering made earlier, the mutual fund industry has evolved to now offer customised offerings such as large-cap, mid-cap, small-cap, multi-cap, and sectoral (Banking and Infrastructure) equity funds to suit the varied needs of investors.
Recently, assets of the industry touched Rs 10 lakh crore, which amounted to 9% of India's GDP. Globally, mutual funds are the investment vehicle of choice among retail investors. In mature markets such as US, mutual fund assets amount to about 85% of GDP.
3 reasons why you should start investing through mutual funds without worrying
First of all, mutual funds are well-regulated by the market watch dog SEBI. And over the years, SEBI has tightened the rules and regulations to prevent fraud and to protect retail investors. Mutual funds also make frequent disclosures to SEBI of their operations that keeps the funds under lens all the time.
Second, thanks to such regulations, a mutual fund is today the most transparent investment avenue for retail investors. Everyday, the mutual funds declare NAV of all their schemes based on latest market value. Fund managers regularly keep the investors apprised of their portfolio strategy.
And finally, the entire portfolio management is in the hands of professional fund managers, who are given license to operate only after a thorough due diligence by SEBI officials. Did you know that it can take 3-5 years for a new mutual fund to get a license to operate?
If at all if there is any blip in the Indian MF industry, it was the irregularities in US-64 in the late 90s, when the government had to step in to protect the investors. However, in the long run, it ended up being a good thing for Investors. UTI came under the ambit of SEBI, clear regulations were created for mutual funds and a tightly regulated and transparent industry came into being.
SEBI has been highly proactive in this area bringing about a slew of changes friendly to investors such as reducing expense ratios, eliminating entry loads, mandating certifications for distributors and advisors etc.
Today, there are 50 SEBI-registered Mutual Fund houses in the country with approximately 1800 schemes to choose from. And with at least a crore of retail investors reposing faith in the industry, it's time you stopped worrying about mutual funds and started investing through them.