Equity markets in January 2019:
Over long periods of time, equity market should deliver close to 12% per year return (which translates to a doubling every 6 years). This is in line with India's GDP growth measured in Rupee terms. Over the last 3, 5 and 10 years, the Nifty returns have been closer to 14% per year. The Midcaps have delivered slightly higher returns than the large caps over longer observation periods. Over the last year, the Nifty has been weaker than its long term average. More importantly, the Nifty Midcap and Smallcaps have performed poorly compared with the large cap oriented Nifty.
Sensex annual performance from 1991-2018
Equity markets, by their very nature are volatile with negative, moderate and great years. Investors need to be prepared for this volatility, but one can expect long term returns to average well over inflation. One should have an investment horizon of more than 3 years at the very least, in stock markets, in order to expect returns above inflation.

Debt markets in January 2019:
Liquid funds continue to average about 7.2% per year returns. Overall bond yields corrected sharply from Oct-2018 till Dec-2018 and have been stabilizing. We have not seen any major impact on liquid fund performance.
Factors driving markets:
Inflation continues to be low in India, at under 3%. This is good for the average consumer. Performance of companies have also picked up, though it was affected for a temporary period when oil prices shot up, in the Aug-2018 – Oct-2018 period. Though, overall consumer sentiment is good and corporate performance is picking up, investors seem to be worried about the upcoming election related uncertainty. As a result, inflow into equity markets have reduced over the past 2 months.
We did analyse stock market performance 6 months before and after the 'General Elections'. There have been 7 general elections since 1991 and based on past trends, markets seem to have done quite well through the election periods.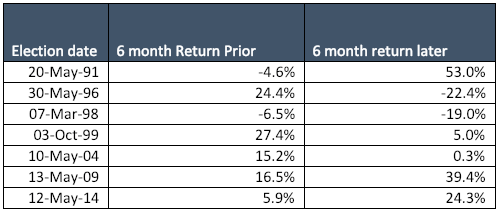 Summary:
Based on past data, equity markets should deliver a reasonable rate of return ahead of inflation over time. Weak periods in markets are actually an opportunity for investors to add to their overall investment commitments.