The legendary investor Warren Buffett's 54th letter to the shareholders was released a while ago. Unlike the most, shareholder letter from the Berkshire Hathaway's chairman is the most sought after. Equity investors and portfolio managers from across the globe relish the investment perspectives shared in these writings.
Here are some key investment takeaways for the equity investors:
Power of retention
Buffett is in favour of owning companies that retain their earnings instead of distributing it in the form of dividends or repurchasing their own stock. Why so? That's because it is more likely to prove more valuable in the long run, when they productively put it back into their business and meet their growth objectives. This in a way is superior compounding at work, according to him.
"Well-managed companies do not, as a rule, distribute the whole of their earned profits to the shareholders. At least not during its good years" he mentions.
Moreover, he advises investors to focus on its operating earnings.
20 percent return
Is it just fine to grow profits? Not really. Buffett has a three-point criterion for short listing companies. One, they must earn 'good returns' on the net tangible capital required in their operation.
Net tangible (equity) capital indicates how much will an equity owner receive in the event of a company's liquidation. It is computed by subtracting from the shareholder equity value any goodwill or other intangible assets. True value of intangible items like goodwill is uncertain and varies widely. A conservative assessment of the company's shareholder equity is to altogether remove such items.
According to the investment guru, earning more than 20 percent on net tangible equity capital is remarkable – especially for large, established and understandable businesses. Of course, he puts the caveat that these companies need to earn their profits without deploying excessive level of debt.
High on corporate governance
Secondly, these companies should be run by able and honest managers. Thus, he lays emphasis on ethics of the management team and corporate governance standards of each business he is evaluating.
Of course, he had highlighted about its importance in the previous letter as well in which he mentioned "It takes 20 years to build a reputation and five minutes to ruin it".
Sensible price
Lastly, he said "they must be available at a sensible price". Buffett has been a stickler for details and often preferred to sit on the fence when valuations were high. With $ 128 billion in cash, cash holding of Berkshire Hathaway has more than doubled in the last three years.
Perhaps a lesson for trigger-happy investors to cool their heels till the time there is a good opportunity in the market to buy stocks.
Concentrating on the winners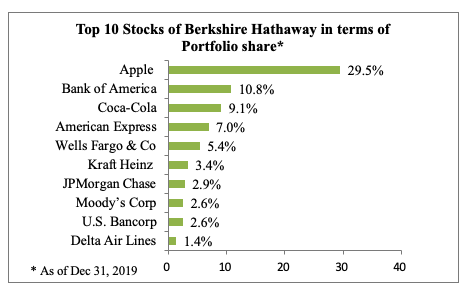 Top 10 stocks of Berkshire Hathaway constitute 75 percent of its portfolio value with Apple, Bank of America and Coca-cola being its long-time favourites. Apple almost constitutes 30 percent of overall portfolio, while stakes in the financial sector is very high. The Oracle of Omaha doesn't believe in pointless diversification; rather he goes by his conviction by betting more on the "good" businesses" that tend to grow and find opportunities for investing additional capital at attractive rates. Equity wins over bonds After taking potshots at people who forecast interest rates – he mentioned matter-of-factly "Charlie and I have no idea what rates will average over the next year or ten or thirty years". However, he adds that if current rates were to somewhat prevail over the coming decades along with low corporate tax rates, equities will over time, perform far better than long-term fixed-rate debt instruments. While he spoke about in the context of US markets, it is likely that under similar circumstances, he would be more bullish on stocks than bonds in India as well.
While buying stocks, he warns the equity investors to be prepared for the worst. "Anything can happen to stock prices tomorrow. Occasionally, there will be major drops in the market, perhaps of 50% magnitude or even greater", he warns.
Not for the faint-hearted
While buying stocks, he warns the equity investors to be prepared for the worst. "Anything can happen to stock prices tomorrow. Occasionally, there will be major drops in the market, perhaps of 50% magnitude or even greater", he warns. To be a successful investor you should have control over emotions, he says. And leveraging for investing in equity is a big 'No'. He believes that the compounding wonders along with resilience of economy (US) will make equities a better long-term choice for individual investors.
Takeaway
Power of compounding will work its wonders for companies retaining their earnings to productively invest it in their business. Buffett favours them – especially those that are able to earn 20 percent plus return on its net tangible equity capital. His tip to retail investors – have control over emotions and don't get deterred by a major drop in the stock market values. Equity will outperform bonds, ultimately.
Frequently Asked Question
What are Warren Buffett's Top 5 Stocks?
Warren Buffett's Top 5 Stocks are:
1. Apple: Berkshire's biggest holding
2. Bank of America: Second largest holding for Warren Buffet
3. Amazon: one of Berkshire's biggest positions
4. Coca-Cola: Buffett is Coca-Cola's largest shareholder with a 9.31% stake
5. American Express: holds 151.6 million shares with a value of $14.4 billion
What is Warren Buffett's investing strategy?
Warren Buffet's strategy is based on long term value investment. He looks for stocks that are undervalued in the market without justification and buys them at cheap prices then holds them over the long term until they reach the expected gains.
Which ETF does Warren Buffett recommend?
Warren Buffet recommended Vanguard Exchange Traded Funds and recommended mainly 5 Vanguard funds to buy
Vanguard 500 Index Fund Admiral Shares (VFIAX)
Vanguard Mid-Cap Index Fund Admiral Shares (VIMAX)
Vanguard FTSE All-World ex-US Small-Cap ETF (VSS)
Vanguard Short-Term Treasury ETF (VGSH)
Vanguard Consumer Staples ETF (VDC)
What did Warren Buffett buy recently?
Some of the stocks that Warren Buffet has recently bought:
AbbVie : Pharmaceutical company and owner of leading drugs Humira and Imbruvica.
Merck & Co.: producing cancer drug Keytruda which will remain on the patent until 2028.
Bristol-Myers Squibb Co.: Global pharmaceutical company with their recent deal of Celgene.
Snowflake: Cloud data company
T-Mobile US: Warren expects a great company future with the 5G
Is Warren Buffett really a value investor?
Buffet cannot be called a pure value investor since value investors depend only on buying undervalued stocks and estimate for them to get a real value in the future. Buffet is one of the most successful investors in the world and this needs a good understanding of both value and growth investment and buffet knows how to find a company with underlying stock and at the same time solid future growth.