Lending rates of banks and financial institutions are at multi-year lows. And with RBI recently cutting the repo rate, the external benchmark rate for home loans, the home loan rates are hovering below eight per cent per annum for many banks.
Lower interest rates improve affordability by reducing EMI per lakh. So, does it make a strong case for buying a house now?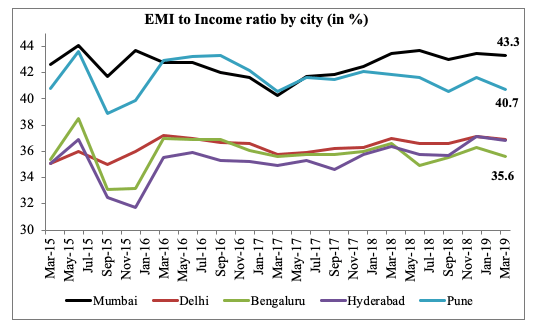 1. Check your cash flows
Buying a house is a big financial decision requiring income stability over many years. Off late, economy and businesses have got impacted by the lockdown process to combat Covid pandemic. Many companies have resorted to a pay cut or axed jobs altogether.
So, assess your cash flows and its stability over a period of time. An intermittent shock to income could impact your ability to repay the loan. If you lack clarity at this juncture, hold the buying decision for the time being.
2. Nothing is fixed
Most banks offer floating interest rate home loans which move up and down with changes in the interest rates in the economy.
The good part is that from October 2019, it is compulsorily aligned to an external benchmark rate (Repo rate). So, with changes in the repo rate, the interest rate on the loan also changes accordingly.
While a few players offer fixed interest rate home loans, it is really not fixed. It's fixed for only a short period of two years and often comes at a premium. Moreover, with interest rates hovering at multi-year lows, the odds of interest rates going up are higher. And with lack of a fixed-rate loan option, there is a higher likelihood of such spike in rates impacting your EMIs and cash flows. 
3. Builder reputation
With the economy in bad shape, many residential projects are getting stalled due to financial issues of builders. Check, if the builder is of repute and with a good track record of completing projects on time and as promised. This is especially important if you are going for under-construction properties. Also, ensure clear title to the land along with necessary statutory permissions for the project under consideration.
Ready-to-move properties are always a safer option, even though it might be a tad costlier.
4. What's your score
Higher the credit score, lower is the interest rate on the home loan. Moreover, if your credit-risk assessment undergoes substantial changes during the tenure of the loan, then your bank can revise the rate upwards.
So, look at ways to keep your credit score high at all times.
If your credit score is not good (lower than 550 on a scale of 300-900), look at ways to improve it. Avoid taking too much debt at once. If there are multiple loans, ensure some are paid back fully.
If a borrower uses over 30 per cent of his credit taking limit, it negatively impacts the score. So does a delay or default in repayment of loans and credit card dues. Fully repay the credit card dues and not just the minimum payment. Holding on to an old card with a good credit history helps.
Keep in mind that it takes at least six months for improvements to reflect on the score.
A popular thumb rule is to ensure the EMI is not more than 25 per cent of one's take-home salary. For instance, if you earn Rs 1 lakh a month, EMI should not be more than Rs 25,000 a month.
5. Don't Stretch
Housing affordability is worsening in many cities, as per an RBI survey. Above 40 per cent of salary went in repaying home loans for those buying homes in the cities of Mumbai, Ahmedabad, and Pune (see chart).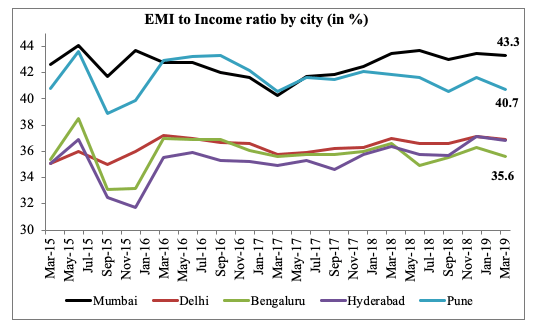 People often think that loan eligibility amount declared by banks is the true barometer of their repaying ability. This, though, is not ideal. A popular thumb rule is to ensure the EMI is not more than 25 per cent of one's take-home salary. For instance, if you earn Rs 1 lakh a month, EMI should not be more than Rs 25,000 a month.
Also, do not buy a house unless you have 20 per cent of its value to make as a down payment. If you don't have it, start a house fund – by investing systematically into a mix of equity and debt mutual funds – to get there.
Takeaway
Interest rates might have bottomed out and improved housing affordability. However, the flip side is that as rates increase, your interest burden might shoot up going ahead. Pay cuts and job losses in turn have amplified financial vulnerability. Weigh these considerations before buying a house.