Buying a term policy is not just about scouting for the insurer that provides the lowest quote. You might have got the cheapest but not necessarily the best.
What if you signed up with an insurer that quoted the lowest premium and it ultimately folded up its operations? Or that it refused to settle the claim to your near-and-near ones? In such circumstances, the whole purpose of taking a life cover is not fulfilled.
What's a term cover?
Buying a term policy involves a bit of research. Before we delve into it, let's understand a term life cover. It is a type of life insurance that guarantees payment of a stated amount (sum assured) to the beneficiary if the insured dies during the active term of the policy. It is the cheapest among all the types of insurance policies, as it provides a pure risk cover.
One can shortlist insurance companies for buying a term cover by looking at the following factors:
1. Claim Settlement Ratio (CSR)
It is the ratio of claims (approved and) paid by an insurer during a financial year as a percentage of the total number of claims received. So, a CSR of 95 per cent means that out of 100 claims, 95 of them were paid. The rest were rejected, written back or are pending approval.
Higher the CSR, better it is for the buyer. As it indicates that the insurer is more likely to honour their commitments.
CSR gives a good glimpse into the claim assessment, survey and claim underwriting process of the company. However, its figures keep fluctuating. That's why you need to look at a five-year average to get an inkling about the insurer's consistency in settling claims.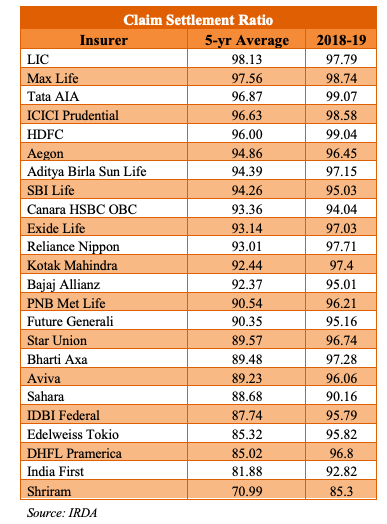 Additionally, check the alacrity with which the insurers settle their claims. Insurers that have a high percentage of claims pending for more than six months need to be viewed cautiously.
2. Solvency ratio
Imagine a situation where a massive earthquake or flood puts a huge death claim on the insurer. Will it be able to absorb such financial shocks?
Solvency ratio is one measure that tests the long-term survival of an insurer by checking its capital vis-a-vis the risks it has undertaken. Similar to the capital adequacy ratio of a bank, it gauges the insurer's ability to meet its financial obligations.
It is measured by checking how much the company has in assets (in excess) as against its liabilities and essentially indicates the financial buffer. Higher the solvency ratio of an insurer, lesser is the chance of bankruptcy.
As per IRDA guidelines, all insurers have to maintain a minimum solvency ratio of 1.5.
However, a high solvency ratio need not always indicate good financial health. It's likely that a player might have reported more profits or investment assets that are likely to be deployed soon. Therefore, look for a consistently high solvency ratio as it keeps changing every quarter as more policies get underwritten.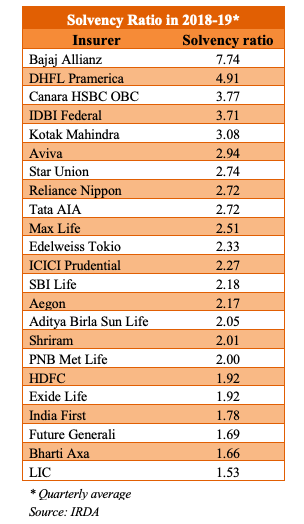 3. Brand value
Is the insurance brand trustworthy in your eyes? The brand value indicates the trust put by its customers on the insurer. Building trust takes a lot of time and hard work and depends on three core competencies: service, consistency and transparency.
First of all, how has its service been? Surf and find out the opinions of its customers on the internet. Use disproportionately high levels of negative customer reviews as a filter to weed out insurers. Perhaps their service quality is actually not up to the mark.
Consistency is its ability to provide an equivalent level of service, regardless of which employee you deal with or which service you choose. Some customers get comfortable with a certain service of a brand and logically follow them for another service. For instance, a good banking relationship might lead one to subscribe to their insurance products as well.
Finally, it's about transparency. Honesty, as they say, is the best policy. Does the insurer make all the necessary disclosures about their product? Are their life advisors pushy and often paint a rosy picture? Or they insist on following procedures and making full disclosures? Investigate complaints received against the concerned insurers in the area of disputes over claims, policy cancellations and sales misrepresentations to get an inkling of the insurer's value system.
4. Cost of insurance
Once you have weeded out the bad ones, shop-around for the best premium quote among the shortlisted ones. However, compare apples with apples only.
One policy might have a higher premium but also offer more benefits. A rider in a term policy such as waiver of premium can make it costlier. Similarly, not disclosing your smoking habit can lower premiums by 30 per cent or more. However, there is a high risk of a claim getting rejected due to withholding of such vital information.
Premium also differs based on the tenure of the policy and the mode of payment.
Takeaway
Cheapest might not be the best. CSR is one good way to check if insurers are honouring their commitments. Solvency ratio, in turn, indicates its ability to meet short-term and long-term obligations. Use them as filters while choosing a trustworthy insurer that's lighter on your pocket.