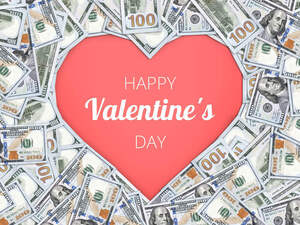 Folks, you have probably planned your Valentine's Day date and gift by now. Good start, but here's another tip that's crucial to the long term wel-lbeing of your relationship - being on the same page about money. Unconventional as it may sound, it is important. As the saying goes, "some days I want love, but every day, I need money!" So here's a start -
Talk money
Get comfortable talking to each other about money. If you're unsure of what to talk about, here are 5 money conversations you should have with your partner. This one can be your first in a series to happen. Plan and prepare for the next conversation after you're done with the first one.
Promise honesty to each other
Secrets like the money you're saving for an engagement ring or for a surprise party are OK. But, for the rest, it is best to have a heart-to-heart (no pun intended :P). Be truthful to each other about how much you earn and spend and how you save and invest. This will help when you're setting goals and expectations. Share your plans and try to match them with your partner's goals. If they don't, try finding a middle ground that works for both of you.
Surprise your valentine with a planned short term goal, in action
Start planning, and invest for the little milestones - that vacation that's been on your mind for a long time, or that diamond jewellery, or that car they had always wanted. Instead of trying to manage finances at the last minute, start investing early so that on a Valentine day in the near future, you can bring a joyful smile on your significant other's face!
Plan for the long run
A big part of your "happily ever after" story is possibly a home of your own. Realty can be reality if you start investing early. No feeling like the first Valentine's Day in your own home!
Doing the above will help in avoiding arguments and disagreements, as well as unpleasant surprises that can lead to an unhappy relationship.
At Scripbox, we help you calculate, plan, and start investing in mutual funds suited for your goals. We will make sure you spend less time worrying about your money and more time with your loved one.
Happy Valentine's Day to you! <3