Or how to earn a bonus holiday in Europe!
Beating the market is a goal for every active investor – but only a few succeed. Apart from proving how smart you are, beating the market is obviously better for your investments. But did you know how much?
We will take an imaginary (but diligent) investor who invests Rs 1 lakh each year on the last day of the year starting in 2001. If her investments fared at par with the market, her investments would have been worth Rs 20 lakhs on Dec 31, 2011.
That's a sizeable amount in itself but there is more. If she beat the market by 2%, it would've been worth an extra 3 lakhs at 23 lakhs!
With 4% outperformance, it would've been worth an extra 6.3 Lakhs! That's enough extra money to take her family on a tour of Europe for 2 weeks!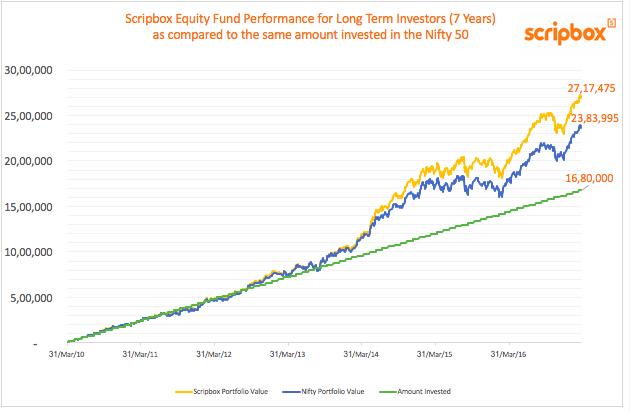 At Scripbox it's our second goal to beat the market for you. (A good night's sleep for you is our first goal). The chart shows how we've done with respect to that goal.
So perhaps you should start planning for that Europe Holiday!
Reminder: Past performance is not an indicator of future returns.