When buying term insurance policies, people often scout for the insurer quoting the cheapest premium.
Perhaps it makes sense as it's a pure risk cover. And buying a cheap policy reduces your costs, after all.
Buying cheap, however, is not always best. What if you signed up with an insurer that quoted the lowest premium and it was found to have a poor track record in settling claims?
In such cases, the whole purpose of taking a life cover is not fulfilled.
Contrary to popular opinion, term policy – that offers pure life cover – is not a 'commoditised' product. You need to go beyond the premium to look into its policy features and terms and conditions as well.
One critical statistic which is often neglected in the choice making process is the Claim Settlement Ratio (CSR) of the insurer.
What exactly is claim settlement ratio?
It is the ratio of claims (approved and) paid by an insurer during a financial year as a percentage of total number of claims received. So, a CSR of 95 percent means that out of 100 claims, 95 of them were paid. The rest were rejected, written back or is pending approval.
Higher the CSR, better it is for the buyer. As it indicates that the insurer is more likely to honour their commitments.
Numbers tell all
Every year, IRDA – the insurance watchdog – discloses details about CSR of all the life insurers. Check this link.
You can find such information in the statement '6' of the annual report. Ensure you check CSR of life insurers for 'individual' policies and not that for the 'group'.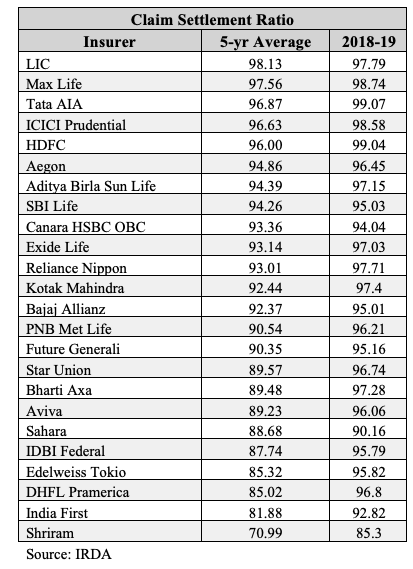 During 2018-19, CSR was, on an average, 97.64% for the industry. Tata AIA (99.07%), HDFC (99.04%), Max Life (98.74%), ICICI Prudential (98.58%) and LIC (97.79%) topped the charts for 2018-19 and in that order.
However, CSR figures keep fluctuating year after year. That's why you need to look at a five-year average to get an inkling about the insurer's consistency in settling claims.
Best practice
Rejection of claims by an insurer is not necessarily bad. Many a time it happens due to fraud or misrepresentation on the part of the policy holder.
You can take the following steps to fool-proof your policy from possible rejection of claims.
Full disclosure
Non-disclosure of medical history – regarding previous and existing medical conditions, operations, surgeries can get you a lower policy premium. But it runs the risk of claim getting rejected.
So, ensure you disclose all relevant health details to the insurer especially conditions like cardiovascular diseases, blood pressure, or any other hereditary problems to avoid rejections of life insurance claims. If you are a non-smoker, make it known. Some insurers give a lower premium for non-smokers.
It is also important to disclose all about your existing life insurance policies while buying a new one. On request, be ready to share details about the insurer, the sum assured and the policy number.
Often people sign on the application form and ask the advisor to fill up rest of the details. No matter how trustworthy the agent is, you need to fill the application form yourself.
Do-It-Yourself
Often people sign on the application form and ask the advisor to fill up rest of the details. No matter how trustworthy the agent is, you need to fill the application form yourself.
Details regarding age, income, occupation, lifestyle (smoking/drinking), as well as information on previous policies and claims, if any, should be filled correctly.
If going through the entire policy document seem a daunting task, at least browse through its important features and exclusions. Check, if all the terms and conditions are as per your expectations.
Nominee
Once the policy is bought, inform your dependant about it and brief them about the claiming process. Moreover, keep regularly updating address and contact information of nominees.
Takeaway
Cheapest term policy might not be the best. CSR is one good way to check if insurers are honouring their commitments. Once you have shortlisted handful of insurers based on their premium quotations, use CSR as a decider.