With introduction of long term capital gains tax on equity mutual funds, this feature has been withdrawn because the cost of switching portfolios is not justified by the additional return.
Instead we have introduced "Tax efficient Withdrawal" which helps you minimise the cost of taxes on your withdrawals.
A Scripbox member asked us this recently.
"On completing your 5 Years, can we do a thought experiment? Take the original 4 Equity Funds and compare it with the rebalanced portfolio of 4 years, everything being equal. Show us that rebalancing really works!"
Context: Rebalancing is a step in Scripbox' disciplined investing process which ensures that you're always invested in funds with the best probability of better outcomes. While switching between funds, Scripbox algorithms ensure that you don't lose money to short term capital gains and exit loads
The short answer: Rebalancing works!
As suggested by our member, we did the math. Over the 5 year period from January 1, 2012 to December 31, 2016, an investor who chose to rebalance every year would have earned about 1% extra on an annual basis - 15.44% CAGR for a Scripbox believer vs 14.6% for someone who stayed loyal to the original recommendation.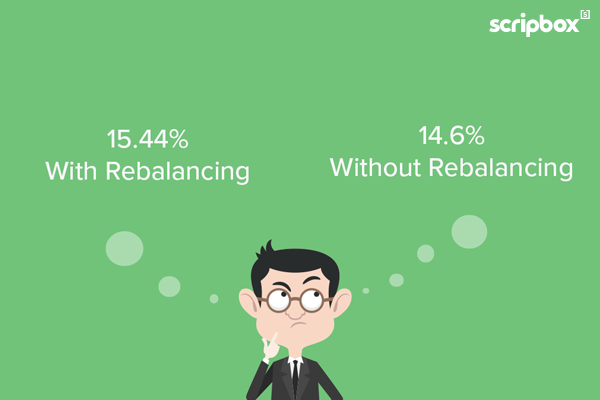 The long answer:
Every year we recommend a set of funds to invest in. Anyone starting afresh would invest in this new set. However, for the people who started investing last year, switching to these new funds poses an issue - because they already invest in a set of funds recommended in the previous year. Should I switch or not? Will it really help? What if the old funds do better?
Why does one feel uncomfortable exiting funds in favour of new ones?
This happens because of something called the "endowment effect". This is a behavioural bias which leads people to assign higher value to things merely because they own them.
So, an investor may be reluctant to let go of funds because they already invest in them! Our brain is wired to treat them as better! This happens even though we know that the new funds are being recommended by the same algorithm that picked the funds we hold.
Why you should allow yourself to follow the disciplined investing process
Because exiting the funds that you hold, in favour of ones that are likely to do better is the right thing to do.
Does this mean the new funds will always do better than the ones we drop? The answer is NO. The approach we follow is probabilistic - meaning that the recommended funds have higher probability of doing well. Sometimes (and that's the thing with probabilities) the dropped fund may actually do better than the new one. But if that happens, the next review cycle will take care of that. Incidentally, in our algorithm's history of 13 years, no fund that fell out of the recommended portfolio has ever come back into the recommended list.
We showed above how a process follower (someone who rebalances) does better than a fund loyalist (someone who sticks with the original funds) by almost 1% per annum. We went a step further and tested it for all five year periods available to us. And this holds true for most - 6 out of 8 five year periods so far.
Why 5 years and not less
We recommend holding your equity investments for 5 years or longer. Therefore it makes sense to not consider shorter periods.
Conclusion
So go ahead and stick to the disciplined investing process we automate for you. It works!