When you link investments to financial goals, you work towards achieving them. Have you wondered how it would be to invest in one of your passions such as stamps, fine art or wine?
Watches, art, jewellery, classic cars and wine are the top passion assets of Asians, as per a recent Knight Frank study and in that order. Can it help you get closer to your life goals?
First of all, let's understand passion investing. Passion assets are those which you can touch and feel, and gain value from their apparent rarity. Unlike financial assets which are intangible, passion assets are physical.
Are there benefits?
Those having a liking to these collectibles cherish the joy of owning it. For instance, sporting a Hermes handbag or a Patek Phillippe wristwatch. In the process, they sometimes also gain from the appreciation of its market value.
However, passion investing is not free from pitfalls.
Proliferation of imitations
There are many fake paintings doing the rounds. Some unscrupulous traders sell rusted and patinated artefacts as antique items. Proper due diligence to check the authenticity of the asset is vital.
With the limited availability of market information and transaction documentation, that's not easy.
Watch out for the costs
If you are buying a vintage car, you need to be meticulous in its maintenance and also maintain logbooks. A collector of fine wines should 'cellar' his collections to preserve the taste. Pristine dust jackets are a must for rare books while paintings need to be kept away from sunlight and properly mounted.
In addition, there are insurance costs for collectibles like paintings, stamps and coins that add to overall holding costs.
Last but not the least, selling passion assets usually requires the services of an auction house, along with their commissions (20-30%).
Liquidity is a challenge
Classic cars can be enjoyed by driving a little without affecting their market value. But not vintage wines. Uncork it and you lose its marketability. Most collectibles face liquidity issues (including wines) since their market is dominated by a few marquee brands.
For instance, Ferrari, Porsche or Aston Martin among vintage cars and works of old masters for paintings. If you are buying works of an upcoming painter or betting on a new art trend, you face the risk of not finding any buyers for it.
Expect diverse returns if at all
A Hermes handbag topped the return charts among items in the Knight Frank Luxury Investment index in 2020, posting a 17% appreciation. The wine stood second while cars, watches and furniture posted single-digit returns. Art, rare whisky and coins, in contrast, were down.
An analysis of 10-year returns shows that rare whisky on one side gave stupendous returns (even more than equities) while coins were a big disappointment.
Therefore, passion assets and returns don't necessarily tag along. Moreover, there are tax implications that cannot be ignored.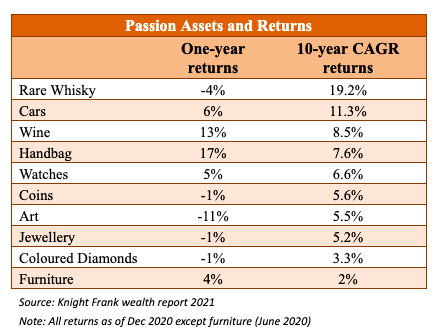 Should you invest?
Passion investing cannot be linked to your life goals. Otherwise, it might affect your progress towards the goal. Contrary to popular opinion, prices of passion assets are strongly correlated to primary assets like stocks and bonds.
With the onslaught of the pandemic, the art market, for instance, took a dip along with equity markets while sales dipped for coins and coloured diamonds.
So, buy passion assets for the sheer joy of owning it and not for gaining returns. Ensure you have considerable knowledge about it while doing homework to determine its authenticity, provenance and legal ownership.
Takeaway
Passion "investing" can take you away from your goals. Unpredictable returns, poor liquidity, and proliferation of fakes make it an unviable "mainstay" as an investment option.