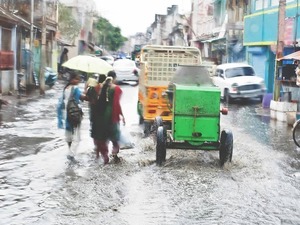 I don't have a TV, but all it takes is one look at my Facebook feed to tell me that the recent weeks in Chennai have been among the worst the city has ever experienced. Torrential rainfall has inundated the city that I once studied in.
The loss of life is horrifying. The scenes of flooded homes and roads seem unbelievable. This also brings home a worrying realization.
Are we prepared to face the inevitable material losses that such events bring?
None of the urban centers in India can truly be said to be safe from natural or man-made disasters. Residents of Chennai would have never expected something like this to happen to them.
What if we lost everything we owned to something like this? What can we do? Can we insure against something like this? I got in touch with a leading expert in the Insurance Industry who has seen his share of natural disasters, over a career spanning two decades.
"Events like those happening in Chennai are 1 in 100-200 year events"
The earthquake in Bhuj, the floods in Mumbai, and now the cloudburst in Chennai; such events are rare. The probability is in the range of 1 in 100 years to 1 in 300 years. One would think that this rarity is fortunate. Sadly, that also exposes the problem with us.
"Most Indians do not believe in insuring property and contents of their homes"
The expert said, "Even after the earthquakes in Bhuj, most residents didn't insure their homes". As it is perceived that such events are rare, most of us don't feel that insuring anything beyond our lives (and our vehicles; only because it is a legal requirement) is important.
"While Delhi is in an earthquake risk zone, most people haven't insured their properties, much less the content of their homes", said the expert.
"Is it a question of cost?" I asked, thinking that perhaps property insurance is expensive.
"Insuring a house worth crores costs only a few thousands of rupees"
While the costs for insuring a house and its contents vary from one insurance provider to another, the expert assured me that the cost is marginal compared to the worth of the property. Then why don't people insure their property and contents?
"It will happen to someone else, and not me"
This is the attitude most people have, according to the expert. "We believe in leaving such matters in god's hands", he rued. This is the reason most property insurance companies struggle to do business in India. Unlike western countries, we do not believe in insuring "things".
"I paid the premium, but what did I gain?" is a statement often heard. The concept of insurance as a cost has still not filtered down.
But based on news reports, insurance providers will have to handle claims worth thousands of crores, so aren't people insuring their property and goods?
"While the number may seem large, I won't be surprised to find that more than half of the goods and homes damaged would have been uninsured", said the expert.
The people of Chennai have shown a unique brand of spirit during this disaster, a spirit which is an inspiration in itself. The calamity though, should be a lesson to the rest of us, at least when it comes to being prepared.
So what should you do to ensure such calamities don't destroy you financially?
- If you own a house, ensure you insure it. Most property insurance costs only a few thousands of rupees each year.
- Insure all your household contents. You might buy a home theater system worth tens of thousands but losing it to a flood because you didn't take insurance is a financial hit you shouldn't risk.
- Insuring against risk is an expense. It is not an investment. Learn to account for such expenses.
- Always have an emergency fund.
Related Posts: