Growing your money is about learning what's important, planning your goals and how you are going to achieve them, and finally about taking the right action.
This has been the guiding philosophy behind our recently launched app, "Scripbox". Scripbox App brings you the best of Scripbox right on your smartphone.
The app is divided into three sections:
1. Learn – The Learn section helps you improve your money skills, through our engaging articles.
2. Plan – This section helps you:
Take a wealth check-up,
Calculate your taxes,
Decide where you should invest your money,
Know how much you will need for retirement,
Know how you can finance your children's education
We will keep adding more calculators to this section, to simplify the investment process even further.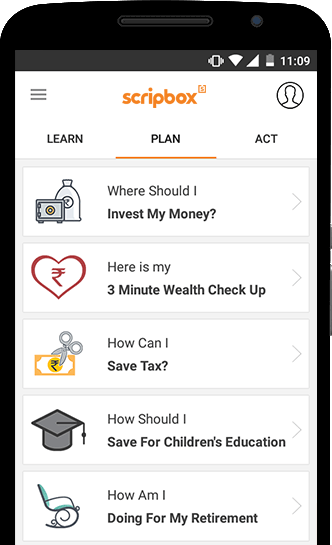 3. Invest – Sign-up for an account with Scripbox.com and invest in carefully and scientifically selected mutual funds, for different objectives like long term wealth creation, tax saving, or emergency fund. You can then invest and watch your money grow.