Growing your money is about learning what's important, planning your goals and how you are going to achieve them, and finally about taking the right action.
This has been the guiding philosophy behind our recently launched app, "Scripbox". Scripbox App brings you the best of Scripbox right on your smartphone.
The app is divided into three sections:
1. Learn – The Learn section helps you improve your money skills, through our engaging articles.
2. Plan – This section helps you:
Take a wealth check-up,

Calculate your taxes,

Decide where you should invest your money,

Know how much you will need for retirement,

Know how you can finance your children's education
We will keep adding more calculators to this section, to simplify the investment process even further.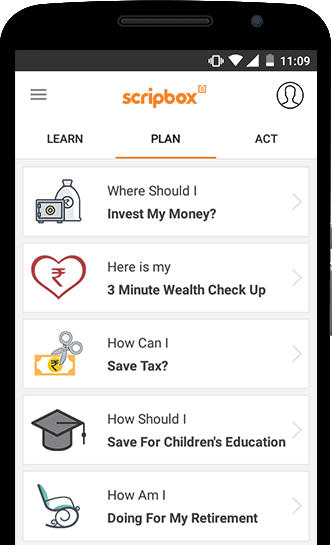 3. Act – Use your Aadhaar UID and PAN to easily sign-up for Scripbox and invest in carefully and scientifically selected mutual funds, across equity, debt and tax-saving funds (requires your current mobile number to be registered with Aadhaar to send a one-time password).
Once done, you can launch our mobile experience at www.scripbox.com/mobile to keep track of your investments (native Android experience coming soon).
Our customers asked us to make investing easier by removing the paperwork involved in registering and starting investments with Scripbox. Unfortunately, this paperwork is mandatory for regulators. We are, however, trying to make the entire process simpler for you.
As the first step in that direction, we have introduced Aadhaar based Sign-up. Simply enter your Aadhaar number and one-time password sent to your phone, so we can automatically pre-fill your basic information into the required forms.
This new system will help us serve you better and faster, so you can start investing right away.