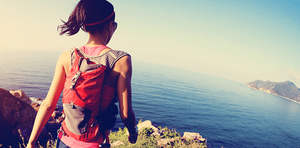 "Know your priorities!" is a phrase we've all heard, from parents to bosses, right from our growing years into adulthood hoping to help us understand what's important for us. However, what many people do not realize is that we can have unconventional priorities at any given stage in life.
For instance, a chartered accountant may dream of travelling while a struggling musician needs to create some corpus to pursue his passion. Our aspirations must not go neglected due to lack of planning and the fear of wrong financial investments.
Which is why, whatever your priority may be, there is a way to meet its requirements by investing in an appropriate fund.
#1. If travelling around the world is your calling:
a) A trip to an exotic location abroad: Traveling is aspirational and sometimes happens on impulse. To feed into this impulse, you can create an Indulgence Fund which will gain from a monthly SIP from your salary. Here's a detailed plan to fulfil your travelling dream.
b) Your own or your parents' wish to go on a pilgrimage: For a trip to Dwarka, Kashi or Mecca, create a small Pilgrimage Fund wherein you put 3% of your savings into Debt Mutual Funds. This will ensure that no dreams go neglected even after you retire. It could be your gift to your parents too.
#2. Pre-paying your home loan: We rely on loans when we need a large sum of money at short notice or for a significant purchase like a home or a car.
If your priority is to prepay your long term loan, especially home loans, you can put your savings into a Loan Repayment Fund that invests in Equity Mutual Funds.
#3. Children's education: More often than not, a parent plans for their child's education well in advance. This means you will have a lot of time before you actually have to pay for expensive higher education. The ideal way to go about this is to create an Education Fund and invest in Equity Mutual Funds. You are then looking at 14-15% returns in less than 10 years' time. Save for your child's future with equity mutual funds..
#4. Money: There are many who do not have very concrete and planned out life goals, but it is a good idea to save a part of the income towards building a corpus which helps to insulate you from any unforeseen events. For your comfort and goals, create a fund to cater to your money and corpus needs. In fact, if you plan this correctly, you can have close to a million rupees within 8 years!
A separate fund for all your needs in life is easy to build if you start right and start early.