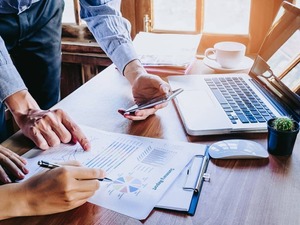 Equity markets in May 2019:
The 2019 General elections were one of the key factors driving market volatility in the past few months. With a clear mandate emerging out of the election results, equity markets made strong gains post results and crossed the highs of April. However, change in governments matters only up to an extent as it is earning growth of companies that will truly call the shots in the long run.
Midcaps showed some strengthening towards the last week but continue to trail the large cap oriented Nifty in terms of 1-3 year period returns.
The S&P 500 (US Markets), as measured in rupee terms, showed a downward trend in May-2019 due to a combination of the fears of a China-US trade conflict and tensions in the Persian Gulf. In addition, the rupee was also strong.
Debt markets in May 2019:
Median returns of the Top 10 liquid funds continue to average a healthy 7.6%.
10 year Government bond yields have come down to 7.1%. We should expect some interest reduction gong forward.
The crisis in the NBFC sector should lead to higher rates in the short term, but rates should come down in the longer term.
Factor affecting markets:
Elections: Now that the results are out and a clear mandate has emerged, we expect the new (yet the same) government to focus on keeping interest rates as well as inflation low. The focus on pro-consumer policies is also likely to continue. A renewed focus on infrastructure development is a pressing need if the GDP growth rate is to remain high and the new government is expected to consider this seriously. We expect services led growth to continue due to the fact that services penetration in India still trails global standards. As investors, the falling interest rate regime is likely to see increasing interest in inflation beating asset classes such as Equity.
Debt markets: The banking industry and debt markets continue to see the impact of NPAs. Concerns remain over some of the key NBFCs. Though the consensus suggests the worst is over, there seems to be some more pain left in the system.
Compared to 2018 till Mar-2019, the Rupee has seen some strengthening over the last few weeks, partly attributable to the election results.
Summary:
After a weak April-2019, equity markets made a hopeful comeback towards the end of May-2019. The Election outcome and the resulting clarity in terms of policy is expected to help markets going forward. Larger global trends however remain cautious due to China-US trade issues and Iran-US tensions.