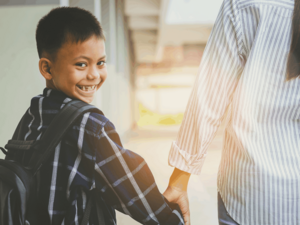 #1 Why should you consider a US education for your child?
What we like most about US universities are the opportunities that they offer. US universities offer multiple programs with the utmost flexibility, students can choose their specialisations after 2 years of college thereby making choices closest to their area of interest after taking courses in diverse disciplines. There is also learning to be gained from the global experience, from the diverse community of students and faculty. On the other hand, Indian colleges are still quite focussed on traditional programs like Medicine, Engineering, Accountancy etc.
#2 How do you best understand your child's interest areas and opportunities?
Here, we believe that the child is the best judge and jury. Some children naturally gravitate to their sweet spot, of what they are good at and what they love doing. However, several middle-school students and even early high schoolers are often daunted by the "What do you want to be" question. We believe younger children would benefit from being exposed to opportunities to build latent talent, and formally exposed to career opportunities when they reach high school with the help of counsellors, family and friends.
#3 How to research for the right US universities and their programs?
The first thing that might hit you when you start research on US universities and their programs is the problem of plenty. There are way too many universities and programs within them. Thankfully, there are resources available to search by disciplines or areas of interest. For example, websites like US News and QS Rankings will provide college rankings and quick snapshots with keywords like national universities (overall rankings), public vs private universities, small colleges and large universities, and will do this for Psychology, Economics, Math, Civil engineering, Design, or for any area of interest. Our recommendation would be to get familiar with the top 50 colleges in the disciplines of interest as a starting point. Some of the resources we have found useful are:
topuniversities.com
collegeboard.org
usnews.com
collegeconfidential.com
quora.com
#4 Demystifying Liberal Arts programs in US universities
We felt the need to include this in our "10 things to know about US universities." blog as this term is ill-understood. Most US universities will have multiple colleges – the School of Engineering, the School of Arts and Sciences, the School of Public Policy, the Business School and so on. Programs like Law and Medicine in the US are only Post-Graduate programs after 4 years of college The School of Arts and Sciences usually is the one that most of our children will apply to at the Undergraduate level unless they are sure of, say, Engineering. And the School of Arts and Sciences (in some universities referred to as the Arts School) is the one that offers the BA or the BS degrees depending on the majors (humanities or the sciences). Students are required to declare their majors only after 2 years of college and the curriculum encourages students to explore breadth in courses. Students can do a major in Math with a minor in what may seem an unrelated field, and that is one of the largest strengths of US universities. They focus on all round learning and not narrow, specialised learning at the Undergraduate level.
#5 What is profile-building and why is it important?
US universities evaluate candidates on their overall profiles – academics, extracurricular activities like sports and cultural activities, leadership positions held, internships undertaken, volunteering activities, etc. Profile building activities need to be identified in high school and scheduled well so that they can be taken up without causing conflicts with the school academic calendar or preparation for tests like SAT.
#6 What are the support systems that would be of help?
The one thing that we think all parents need to be conscious of is that the US university application process runs in parallel to Grades XI and XII and these are often stressful years for the student. Hence, we recommend a support system that involves the student, the parents, a counsellor perhaps, and a small circle of friends. It helps to have sounding boards, as well as a group of people to generate ideas with.
#7 Understanding Application Requirements
While Indian universities focus on entrance examinations as the route to admissions, the US universities take a more holistic approach. The application typically includes Statement of Purpose essays, Academic performance, scores of Standardized Tests (SAT or ACT, Subject SAT, etc), extracurricular activities, letters of recommendation, and short essays about interest in the specific college and program. We would like to highlight that some of the essays need to be customized to colleges as the essay prompts may not be the same.
#8 How can you help your child make a shortlist of universities and programs?
Counsellors advise students who are applying to the US to draw up a shortlist of 10 to 14 universities. They are coached to break up these into Dream, Target and Realistic sets using historical data of GPA (academic results), Standardised testing scores (SAT, ACT, etc) and percentage acceptance rates of these universities. A lot of this information is available at the websites mentioned above, but the personalisation and candidate-university fit can be done well with a counsellor – either one from the school itself or a private one.
#9 Supporting your child through the application process
We cannot emphasise this enough – getting into the right college and program whether in the US or in India or anywhere is a big milestone for your child. The process can seem strenuous and stressful at times, but the results are well worth the efforts. You need to be the primary support for your child, we found that the role we played best was managing the schedule while our child did the essay-writing, the tests, and the applications per se. It also helped us in being there for our child without being imposing. Some such sweet spot, if found, can help foster the right environment.
#10 Financial Planning for your child's global education
Please read our blogs "How much does a global education cost, and why?" and "How does Scripbox help you meet the high costs of foreign education?"