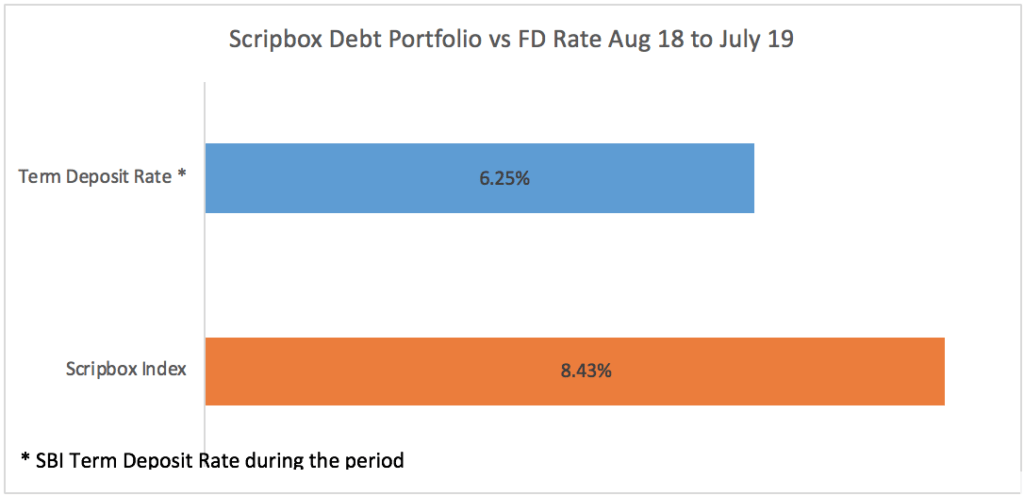 Scripbox debt index has returned 8.43% in the past year (Aug 18 – Jul 19) while the Fixed deposit rate for the said period has been around 6.25%. There was an outperformance of the Scripbox funds to the tune of 2.18%.
We believe that debt funds continue to be the best option over Fixed deposits and we are quite confident entering the year ahead.
1. The core idea of Scripbox :
The objective of the Scripbox portfolio of Short term money(Debt) funds is to select a portfolio of 3 debt funds that have a consistent track record of performing better than CCIL Broad TRI Index, and therefore expected to do better than the Fixed Deposit rates.
We had the following 3 funds in the previous year portfolio. This Report card is based on the performance of these funds from Aug 1, 2018 till Jul 31, 2019.
Axis Liquid Fund (G)
SBI Magnum Low Duration Fund (G)
ICICI Prudential Corporate Bond Fund (G)
The analysis of the absolute performance of the Scripbox Debt portfolio is against the other alternative investment option which is Fixed Deposits.
2. Scripbox Portfolio of Debt Funds
Axis Liquid Fund outperformed the Fixed deposit rate by 1.2%; SBI Magnum Low Duration Fund outperformed by 2.2% while ICICI Prudential Corporate Bond Fund outperformed the Fixed deposit rate by 3.1%.

3. Returns over the last 3 years for investors
The Scripbox debt fund portfolio has outperformed in last 1 year and 3 year period and has performed in line with the fixed deposit rates over a 2 year period

*The above returns do not consider the tax implications. Interest from Fixed deposits is taxed as per income slabs of the individual. Debt funds held longer than 3 years are taxed at 20% of indexed gains.