Many banks are offering Super-Saver home loans which are sanctioned as an overdraft from a linked current account. While you continue to repay in the form of EMIs, the overdraft facility is reduced every month to the extent of the principal component of the EMI so that it becomes zero by the end of the tenure. SBI (Maxgain), Axis Bank (Super-Saver), HSBC (Smart Home), Standard Chartered Bank (HomeSave) and Citibank (Home Credit) offer this facility.
How does it work?
It allows the borrower to save on interest payments (or repay the loan faster) by parking any surplus funds into the linked bank account. For instance, if you have a home loan outstanding of Rs 50 lakh at the beginning of the month and have a balance of Rs 5 lakh lying idle in your savings account. You can temporarily transfer it to the linked current account.
This, in turn, reduces the loan outstanding to Rs 45 lakh (50 minus five) and interest is calculated every day during the month on the reduced loan outstanding till you withdraw it.
On a 15-year loan taken at eight per cent per annum, EMI works out to Rs 47,783 out of which Rs 33,333 (50 lakh* 0.08/12) constituted the interest component in the first month as per the original amortization schedule.
However, since you parked Rs 5 lakh, your actual interest liability for the month will be only Rs 30,000 (45 lakh* 0.08/12). The rest (Rs 3,333) constitute the saving which is added to the excess balance of Rs 5 lakh.
If you continue to park the excess money in the account, for the second month, Rs 5,03,333 will be deducted from the loan outstanding of Rs 49.86 lakh to calculate the interest liability (on a daily basis) and so on.
Pros
Often bank balances tend to idle away in the savings account. Even if you park surpluses for a few days, you earn a better yield than in a bank fixed deposit. Moreover, unlike prepayment of a regular loan, where the money is technically gone forever, the excess balance can be withdrawn anytime.
Cons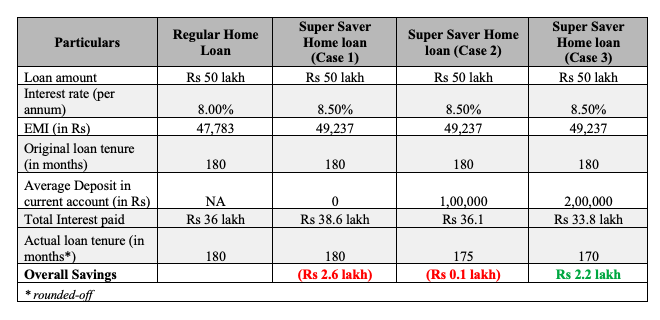 The flip side is that the interest rates on Super-Saver loans are a tad higher (0.5-1 per cent) than the regular home loans. So, you need to do the math and have a rough estimate of the likely excess balances.
Taking the above example, for a Rs 50 lakh loan, EMI for a 15-year loan will be Rs 47,783 at 8 per cent and Rs 49,237 at 8.5 per cent. In effect, you end up paying about Rs 2.6 lakh more (Rs 38.6 minus Rs 36 lakh) for a Super-Saver loan.
Our calculations show (see table) unless you have on an average more than Rs 1 lakh in your account as excess balances, it doesn't make sense to go for the Super-Saver.
Also, since interest saved is not tax-deductible, you need to plan your repayments in order to not lose out on annual tax benefits available under Sec 24 of the IT Act.
Our calculations show (see table) unless you have on an average more than Rs 1 lakh in your account as excess balances, it doesn't make sense to go for the Super-Saver.
Fine print
Having balances more than the loan outstanding doesn't earn you any interest. Moreover, some players charge a commitment fee for the unutilized loan amount sanctioned. Others have pre-conditions (say till you receive possession of the house) set for withdrawing excess balances. So, read the fine print to avoid surprises.
Takeaway
Super-Saver loans can save interest payments by letting you park excess funds into its linked account. But they are also costlier and unless you have sizeable excess balances for long periods, it wouldn't make sense.
Frequently Asked Question
What is the minimum loan amount that can be offered under Super Saver Home Loan SSHL in Axis Bank?
Super Saver Home Loan by Axis bank offers a solution for home loans at minimal interest on the total amount, the minimum SSHL is Rs. 50 lakhs.
What is the maximum loan amount in affordable housing in Axis Bank?
PMAY-U is available for the Middle Income Group, the Economically Weaker Section, and Lower Income Group. The maximum loan amount is Rs 12 lakh and it varies according to the economic group.
How is SBI Maxgain interest calculated?
SBI Maxgain loan interest is calculated based on the new remaining principal after making a payment. This means the principal amount decreases over time and the higher amounts paid the less interest is applied for the remaining loan.
Which SBI home loan is better?
SBI Housing Loan offers a range of products, SBI offers a special discount of 0.05% on interest rates for women borrowers which makes it the least interest rate, SBI Repo Rate Home Loan has a lower interest rate than SBI Maxgain but with SBI Maxgain the borrower has the advantage of decreasing the principal with every payment done towards the loan.
How can I check my home loan subsidy?
You can check your home loan subsidy either online by accessing the website of Pradhan Mantri Awas Yojana and submit a verification like mobile number and father's name. You can also approach customer care by dialing the toll-free number for PMAY and they will assist you with your home loan subsidy.