Best Investing Platform for NRIs
Best Mutual Funds in India
Online Investing Process
NRO and NRE accounts
Access to Qualified Relationship Managers
Explore Demo
Best Investing Platform for NRIs
Best Mutual Funds in India
Online Investing Process
NRO and NRE accounts
Access to Qualified Relationship Managers
Here is why you should choose Scripbox
Algorithmically selected best mutual funds
Selected from 8000+ funds. Expert created plans for different financial needs and goals.
Periodic reviews to keep track of your portfolio health
To supercharge your portfolio by helping you determine which funds to exit, when, and which funds to reinvest in.
Family and NRE / NRO Accounts
Invest from NRE or NRO account or both. Also add family members accounts
GET STARTED
Take charge of your financial wellness
Lets say you invest in
Scripbox Long Term Wealth
Investment Period
15 years
Investment Amount
20,00,000
Investment Period
15 years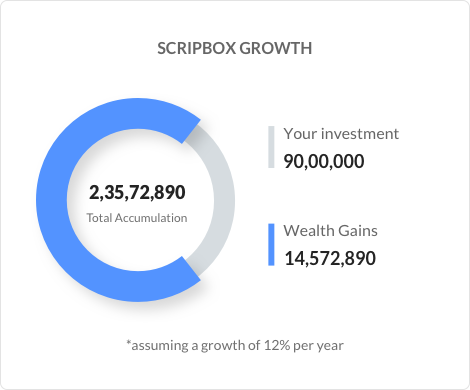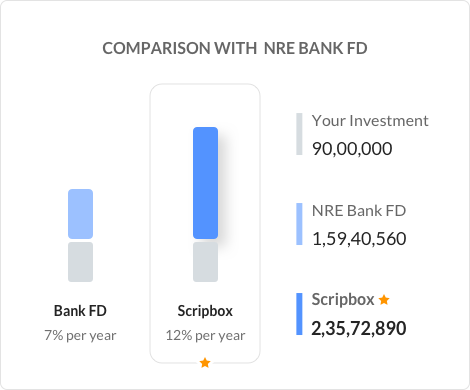 Have questions? Get answers
How can NRIs start investing in Indian Mutual Funds?
If you have a valid PAN Card and hold an NRE/NRO account, we will help you setup your Scripbox account,
after which you can invest in Indian Mutual Funds. We will help processing your KYC(Know Your Customer) if required - completely online and FREE

What is the documentation required to Invest in Indian Mutual Funds for NRI Investors?
The following documents are required to invest in Mutual Funds in India: Pan Card Copy Passport Copy (Front and Back page) Foreign Address proof/ Indian Address proof (For ex: if passport has foreign address then provide Indian Address proof) Bank Proof (cancelled cheque or latest bank Statement from NRE or NRO Account) Person of Indian origin (PIO) or Overseas Citizen of India (OCI) certificates. This is only required for investors who are not Indian Nationals. You can just upload these documents and we will do the rest.
Which bank account is required to invest in Indian Mutual funds?
NRIs can invest through either NRE or NRO account in Indian Mutual Funds. While creating an account with Scripbox, you can choose either of the two options. NRIs who wish to invest through both NRE and NRO account can invest through two separate accounts (one for NRE and other for NRO). You could add the second account as a family account for convenient access and tracking
What is the taxation for NRIs in India for investing in Indian Mutual Funds?
Taxation for NRIs investing in Indian Mutual Funds is same as taxation of resident Indians. The only difference is that for NRIs, there is a TDS of 15% for short term (< 1 year) and 10% for long term (> 1 year) in case of Equities and TDS of 30% for short term (< 3 years) and 20% post indexation benefit for long term (> 3 years) in case of Debt/Gold funds at the time of redemptions. In case the TDS amount is more than the actual taxation, the investor can claim refund of the excess TDS at the time of filing the returns. Equity investments in India are taxed at 15% for short term (less than 1 year of holding) and 10 % for the long term(more than 1 year of holding). Debt investments in india are taxed as per the tax slab for the short term(less than 3 years of holding) and at 20% post indexation benefits for the long term(more than 3 years of holding).The tax indexation benefit is a great way to reduce your tax outgo and generate much better returns than Fixed Deposits for NRI clients. India has double tax avoidance agreement (DTAA) with many countries in the world. This saves you from paying taxes in both India and in the country of your residence
How secure are my investments through Scripbox?
Your investments with Scripbox are done in a totally safe and hassle free way. Your investments records are kept safe with the Mutual Fund house that you are investing in and Scripbox provides you the convenience of investing in the top mutual funds from the platform. You can invest, monitor and redeem your investments online anytime.
What is the difference between NRE and NRO account?
NRIs can have a Non Resident External (NRE) and Non Resident Ordinary (NRO) account to manage their incomes earned abroad and in India. Both are rupee designated accounts. NRE accounts for income deemed to have been earned out of India and NRO accounts for income deemed to have been earned from India.Repatriation of money from NRE accounts can be done freely while there are some restrictions on the same from NRO account.Also, NRE accounts are tax exempted while NRO accounts are not.
Can USA/Canada NRIs invest in Indian Mutual Funds?
Yes, you can. There is only a limited set of Mutual Fund Companies through which you will be able to invest.We will be enabling support for US and Canada NRIs shortly.
What is FATCA and how is it applicable to Mutual Funds investments in India?
Foreign Account Tax Compliance Act (FATCA) is a US government tax policy to which India is also a signatory. As per this act, the Indian Financial Institutions like Indian Mutual Funds are required to report investment transactions of US Persons and Entities to the US government. These transaction reporting is used by the US government to determine the tax liability of their persons and entities as per their domestic tax policies and laws. Due to this, all Indian Investors including NRIs are required to declare FATCA details at the time of their investments to the Mutual Fund houses. We take care of this as part of our registration process.
Praise from our customers
Previous

Next
I've moved my FD savings to Scripbox. It's a very intelligent concept. My CA, LIC agent and Bank Manager also believe that Scripboxing is the right choice.
Phiroze Hussain Lakhani
I find Scripbox impressive, convenient and safe. It's great for beginners to start investing without agents' help. All your investments are at your fingertips.
Ravikumar
I wanted a solution that I could trust without physically going someplace. So,Scripbox is perfect! Convenient, easy to understand... lets me invest and forget.
Nisha C
I was looking for something holistic - a user-friendly platform, simple sign-up process, expert fund recommendations, good service... Scripbox has it all.
Sairam P
Scripbox in the news
Previous

Next
15 June 2019
Why Investing for Goals is the Best Way to Invest?
09 June 2019
Opinion | The nine levels of financial freedom you must aim for
11 September 2019
Robo advisory Scripbox eyes break even in 12-18 months: CEO
03 July 2019
Scripbox introduces goal based approach to investing
07 March 2019
Do women invest better than men?