Tax saving doesn't have to be this complicatedScripbox Tax Saver Plan makes it as easy as 1-2-3
Calculate your tax saving

Get the best tax saving investment reco

Receive investment proof in under 72 hours
India's most trusted online investment service
1250+ Cities in India

2 Million+ Transactions

900 Crore+ Savings

LinkedIn #2 Rank Most influential financial services brand
Scripbox Tax Saver Plan

Calculator
Please give us a few details to calculate your tax savings
What is your annual income?
What is your monthly Employee Provident Fund contribution?
Do you have the below expenses?
Are you saving in the following?
You don't have tax
You have just one more step to
save Tax
Your Tax Liability is

₹
Invest ₹ in Scripbox Tax Saver Plan and save upto ₹ in taxes.
You have already reached your tax-saving limit under Sec 80C
Did you know investments can not just save tax, but also grow your money?
Investment
Lock-In Period
Historical Returns
Is Return Taxable?
Scripbox Tax Saver Plan (ELSS Funds)
3 Years
14% *
Taxable

(Only on retuns > 1 Lakh @10%)
Life Insurance
5 Years
0-6% *
No Tax
PPF
15 Years
7.5-8% *
No Tax
NSC
5 Years
7.5-8% *
Taxable
5 Year Bank FD
5 Years
6.5-7% *
Taxable
Invest Now
Why choose

Scripbox Tax Saver Plan
₹2,20,000
Expected growth in 3 years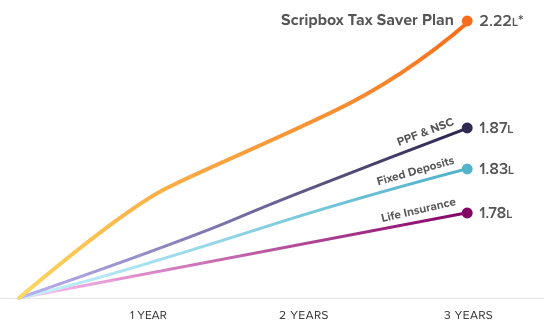 *Growth of one time investment of Rs 1.5 Lakhs, based on historical averages
Lock-In period
PPF

15 Years

NSC

5 Years

Scripbox Tax Saver Plan

3 Years

Tax saving bank FD

5 Years

Life Insurance

5 Years
4 reasons for investing with Scripbox
Best pre-selected
tax saving mutual funds (ELSS Funds)

Easy to invest -
100% paperless process

Zero fees

Safe & secure