Scripbox Tax Saver
Save upto Rs 46,800 on taxes
10-12% returns, top ELSS funds
Lowest lock-in (3 yrs)
Instant investment proofs
Scripbox Tax Saver
Save upto Rs 46,800 on taxes
10-12% returns, top ELSS funds
Lowest lock-in (3 yrs)
Instant investment proofs
India's trusted online investment service
FE Best Banks Awards
2016-17
Our basket of funds for 2022
Mirae Asset Tax Saver Fund (G)
26,000+ people
have saved taxes with us
How much do you want to invest?
You can save taxes upto Rs. 46,800
Assuming a tax slab of 30% and investing Rs.1,50,000
Do you have the below expenses?
Do you have a home loan?
What is your monthly Employee Provident Fund contribution?
Are you saving in the following?
You don't have to pay tax as per your current salary.
You have already reached your tax-saving limit under Sec 80C
Did you know investments can not just save tax, but also grow your money?
Investment
Lock-In Period
Historical Returns
Is Return Taxable?
Scripbox Tax Saver Plan (ELSS Funds)
3 Years
14% *
Taxable

(Only on retuns > 1 Lakh @10%)
Life Insurance
5 Years
0-6% *
No Tax
PPF
15 Years
7.5-8% *
No Tax
NSC
5 Years
7.5-8% *
Taxable
5 Year Bank FD
5 Years
6.5-7% *
Taxable
Invest Now
Why choose
Scripbox Tax Saver
₹2,64,000
Expected growth in 5 years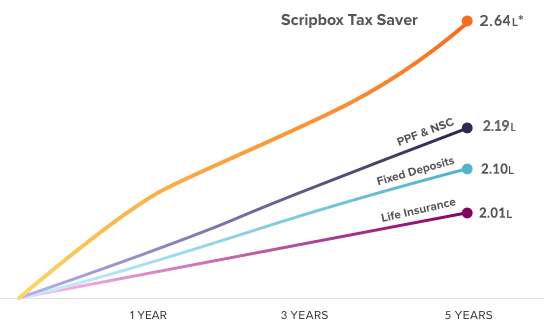 *Growth of one time investment of Rs 1.5 Lakhs, based on historical averages
Lock-In period
PPF

15

Years

NSC

5

Years

Scripbox Tax Saver

3

Years

Tax-saving bank FD

5

Years

Life Insurance

5

Years
4 reasons for investing with Scripbox
Best scientifically selected
tax-saving mutual funds (ELSS Funds)
Easy to invest -
a 100% paperless process
Praise from our customers
Previous

Next
I loved it when Scripbox reached out to me when the market was down to tell me that it's okay. It's like you've really got my back!
My husband is in charge of the kids' education and retirement, I take care of our vacations. Since I started investing with Scripbox, it has resulted in more luxurious vacations!
Scripbox hand-held me through the entire investment process. What I love is the educational platform for newbies like me!
I was looking for something holistic - a user-friendly platform, simple sign-up process, expert fund recommendations, good service... Scripbox has it all.
I've moved my FD savings to Scripbox. It's a very intelligent concept. My CA, LIC agent and Bank Manager also believe that "Scripboxing" is the right choice.
I find Scripbox impressive, convenient and safe. It's great for beginners to start investing without agents' help. All your investments are at your fingertips.
I wanted a solution that I could trust without physically going someplace. So, Scripbox is perfect! Convenient, easy to understand... lets me invest and forget.