5 Mins
Share
This article was first published on Moneycontrol.
International funds are mutual fund schemes that primarily invest in stocks of companies located outside India. By investing in international markets, these funds allow investors to benefit from international growth stories, thus boosting portfolio returns. It is a great way to diversify one's portfolio.
An investor looking to invest in international funds should first understand his\her investment objective. If the investment objective is simply to earn higher returns, then it may not be advantageous to take risks while investing in international funds. Prateek Mehta, CEO & Co-Founder, Upwardly.in, said, "If you want exposure to some of the biggest global companies like Google, Microsoft, Amazon, etc in your portfolio, then investing in international funds is a convenient method."
Who should invest in international funds?
According to Mehta, "If some of your future expenses like children education in international universities are to be paid in dollars, then these investments can act as a good hedge against a currency fluctuation. These investments also come in handy if you are looking to relocate to an international location in future."
The primary reason for having an exposure to international funds is to add another level of diversification to your financial plan. Vidya Bala, Head of MF Research, FundsIndia said, "An investor shouldn't invest for any tactical exposure based on currency depreciation or appreciation."
Himanshu Srivastava, Senior Research Analyst, Morningstar, said, "While this approach diversifies/reduces the risk associated with investment in a single country, especially in the times of market volatility, also helps capitalize on opportunities in other developed and emerging economies."
Also, the investments need to be made depending on an investor's investment objective, risk appetite and the requirement of his financial plan. Bala added, "An investor with an appetite for equity risk can consider 10-15 percent of their equity exposure to international funds."
Performance of international funds
Returns of international funds primarily depend on two factors: 1) Performance of markets in the selected geography; and 2) Currency rate movements.
Mehta said, "In the last 12-15 months, US and China equity markets have performed well. In the last one year, the rupee fell between 5 percent and 12 percent major currencies like the dollar, yuan, euro, and yen. This fall was after a long, stable run for the rupee. Meanwhile, the rupee has appreciated against other emerging market currencies like the real and ruble dampening returns from those county funds."
Based on these two factors, US-based funds have returned anywhere between 19 percent and 25 percent, Edelweiss Greater China Fund has given a staggering 34 percent return in the last one year.
While we have discussed the one-year performance above, investors in equity markets should always look at 3-year and 5-year returns to evaluate investment opportunities. The US and China-based funds have performed well with 10-11 percent and 14-16 percent returns annually over 3-year and 5-year periods, respectively. On the other hand, funds investing in Japan, Brazil, and European markets have underperformed with a meager annualized return of 2-6 percent.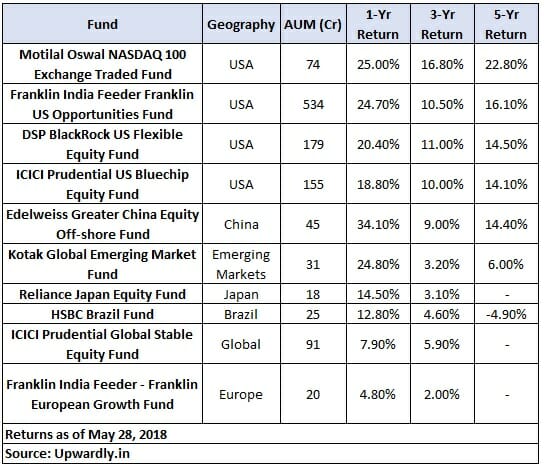 Regions and themes you should be investing
According to Bala, "A region that has lower correlation to Indian markets is preferred if one is using an international fund for diversification. In this regard, emerging markets are more correlated. So, a market like the US would provide better diversification options."
Manish Kothari, Director and Head of Mutual Funds at Paisabazaar.com, said, "International funds have focused on the US since the end of global financial crisis as US markets have proved to be more resilient than other advanced markets. The strong performance is expected to continue given the sustained improvements in their economic and corporate earnings growth. Additionally, investing in US-focused funds might also benefit investors from currency depreciation as falling rupee would further increase fund returns. Also, rising global commodity prices have increased the attractiveness of international thematic funds focused on commodities."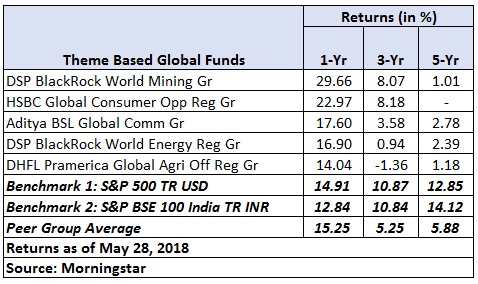 "China continues to remain attractive in the wake of its companies increasingly turning global, coupled with a strong domestic consumption market. However, other markets like Europe, Brazil, Japan, and Russia are suffering from lackluster economic performance and is better to stay away from those geographies," said Mehta.
Risks
As with all investments, investing in international funds comes with its own set of risks, the biggest being currency risk. Kothari cautions, "If the rupee appreciates against the currency in which the international fund is invested, then fund returns will suffer despite gains made by the fund in the international market(s)."
"Another major risk affecting international funds are the political and economic risk. A minor change in the political arena of that country can impact the value of the investment," Amit Kachroo, Managing Partner at AANEEV Wealth, stated.
Weaker understanding of international equity markets by Indian fund managers is also a risk. Mehta said most international funds are small in asset size, with typical assets under management less than Rs 100 crore. "Funds with low AUM can suffer from the pressure of large redemptions. An investment advisor can help mitigate these risks."
Taxation
"Gains booked from redeeming international funds within 3 years of investment is taxed as per the tax slab of the investor. Gains realized from redeeming international funds after 3 years is taxed at 20 percent with indexation," Kothari stated.
Discover Popular Funds