Scripbox Opinion
Not Reviewed Yet
We're yet to analyse this fund
We're yet to analyse this fund
We're yet to analyse this fund
Consistency Of Performance
We're yet to analyse this fund
Build Long Term Wealth
Invest in a scientifically curated set of equity mutual funds which are best aligned towards achieving any long term objectives you have
Learn why choose a plan over a fund ->
Investing Duration 5 years
Total Corpus Created
With assumed returns of 11.25%
Start Investing Now
Investment Objective
The primary objective of the Scheme is to seek long term capital growth through investments in both large cap and mid cap stocks. However,there is no assurance or guarantee that the investment objective of the Scheme will be realized
4th Sep, 2020
Launched (0y ago)
S&P BSE 250 LargeMidcap Index TR INR
Benchmark
Fund Managers
Ashwani Kumar
Fund Manager
Sanjay Chawla
Fund Manager
Returns Calculator Comparison
| Instrument | Returns | Total Corpus | Gains | Annualised % |
| --- | --- | --- | --- | --- |
| Mutual Fund | | | | 11.25% |
| EPF | | | | |
| Property | | | | |
| PPF | | | | |
| Bank FD | | | | |
| Gold | | | | |
| Savings Bank | | | | |
Disclaimer: Products compared like fixed deposits may provide fixed guaranteed returns. Mutual Funds investments are subject to market risk, read all scheme related documents carefully before investing. Past performance is not an indicator of future returns.
Asset allocation and Holdings
Last updated on 31st October 2020
Top Stock Holdings
Net Receivable / Payable
7%
Tata Consultancy Services Ltd
5%
See all holdings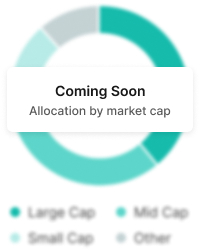 See all sectors
Build Long Term Wealth
Invest in a scientifically curated set of equity mutual funds which are best aligned towards achieving any long term objectives you have
Indicative returns of annually

Recommended Duration

No Lock-in
One-click investing and tracking

Zero fees for all your investments
Investment Duration 5 years
₹12,37,295
Total Investment
₹12,37,295
Total Corpus Created
With assumed returns of 11.25%
Start Investing Now
How to invest in best mutual funds?
Investing through Scripbox is made easy and paperless. All you need to do is follow the below steps and start investing.
Choose a plan
Choose a plan to invest to start investing
Create your account
Set-up your investment account
Invest online & transfer
Make instant payment or setup your investment for a later date
Track your investments
Mutual fund companies allot you units and send confirmation via email & SMS. The same gets updated in your Scripbox Account
The Scripbox Promise
Scripbox has helped over 2500 people become millionaires in the last 7 years
Start Investing Now
Fund Selection
You'll never have to worry about what funds to choose. We'll suggest what's best for you.
Continuous monitoring alerts
We will track our recommendations and suggest changes fund exists whenever required.
All week call assistance
Our customer champions are available 7 days a week from 8AM to 8PM.
Annual reviews rebalances
We review your investments and make course corrections every year to make the best out of your investments
About Baroda Large & Mid Cap Fund (Growth)
About Baroda Large & Mid Cap Fund (Growth)
Baroda Large & Mid Cap Fund (Growth) is a Other Other fund and has delivered an annualised return of 1.1% over a period of 0 years. The fund is managed by Baroda Asset Management India Limited. The fund managers are Ashwani Kumar, Sanjay Chawla.
Baroda Large & Mid Cap Fund (Growth) Investment Objective
The primary objective of the Scheme is to seek long term capital growth through investments in both large cap and mid cap stocks. However,there is no assurance or guarantee that the investment objective of the Scheme will be realized However, there is no assurance that the objective of the scheme will be realized.
Baroda Large & Mid Cap Fund (Growth) NAV, AUM and Risk
The fund was launched on 2020-09-04. The NAV of the fund as of 2020-10-30 is ₹ 10.11. The total AUM of the fund as of 2020-10-30 is ₹ 553 Cr. The category risk of the fund is Moderately High risk
The fund charges 2.53 % as expense ratio.
Baroda Large & Mid Cap Fund (Growth) Holdings
The fund's highest allocation is towards equity and has invested 73.16% in this asset class. The top three holdings of the fund are treps, net receivable / payable and tata consultancy services ltd.
Baroda Large & Mid Cap Fund (Growth) SIP
The minimum SIP(Systematic Investment Plan) amount for this is ₹ 1000 and you can increase this in multiples of 100. In case you want to invest a lump sum, the minimum amount to be invested is ₹ 5000.
Baroda Large & Mid Cap Fund (Growth) Investment volatility and Horizon
This fund is meant for investors with a minimum investment horizon of 5-7 years. Due to the asset class nature, expect volatility in your investments over the short term. The fund is benchmarked to S&P BSE 250 LargeMidcap Index TR INR.