How can I withdraw money from my Scripbox account?
Just login to your account, click "My Investments" on the left-side menu, select the fund category from which you want to withdraw and then click "Withdraw" at the bottom. To ensure you are withdrawing for the right reasons, we'll ask you why you intend to withdraw.
Please select the reason for withdrawing now.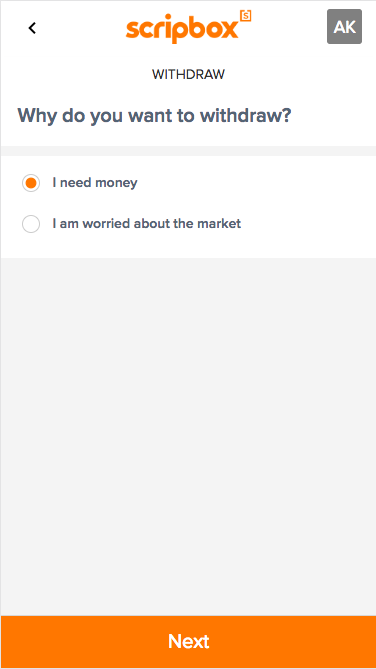 If you select "I need money" and click next, you will be taken to a screen where you can select how you want to withdraw. You can either withdraw by amount or by choosing the funds from which you want to withdraw from.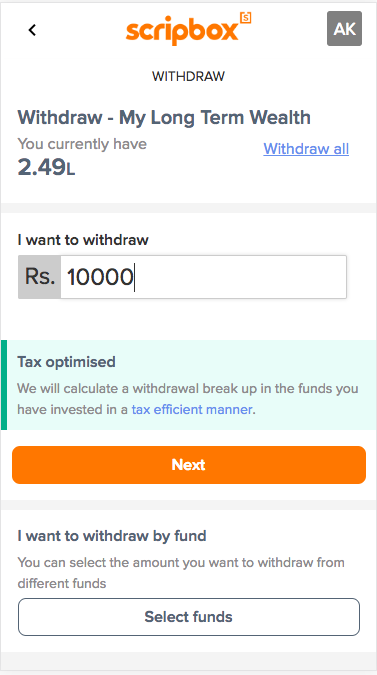 Once you enter the amount you want to withdraw and click next, our algorithm recommends you how much to withdraw from the list of all the funds that you have invested. This is done to help you reduce the taxes that you might incur when your long term capital gains go above Rs.1 Lakh.
If you are not happy with the recommendation that Scripbox provides you can click on "I want to choose my own funds" and change the funds and amount.
Otherwise you can click next to continue withdrawing the amount Scripbox recommended. You will now be taken to a page where you can confirm and place the withdrawal.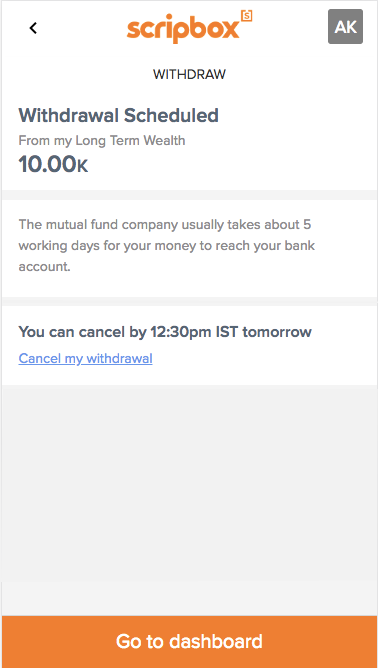 Now you have placed the withdrawal successfully. Please note that there might be a small difference in the amount that gets deposited in your account due to NAV variations.
---
Hope we helped! Why not get started with your Scripbox.
If you need further assistance please feel free to reach us at
1800-102-1265