India's trusted online investment service
Rs 5,000+ Crore
Investments
FE Best Banks Awards
2016-17
Scripbox Long Term Wealth
Historical Returns
12-14%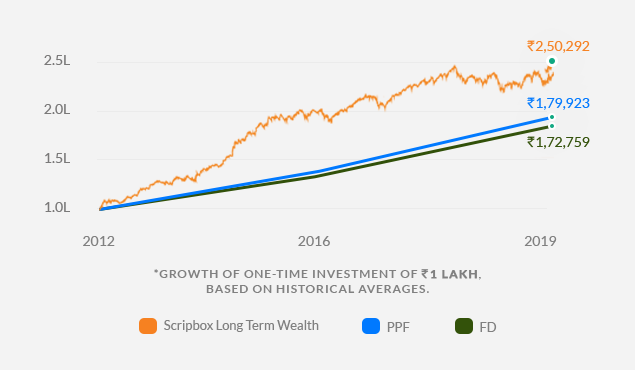 Our 2020 Basket of Equity Funds
Algorithmically-selected Mutual Funds to achieve your life goals
Mirae Asset Large Cap Fund (G)
Axis Bluechip Fund (G)
Kotak Standard Multicap Fund (G)
Multi-Cap
Diversified-Equity
Invesco India Growth Opportunities Fund (G)
Multi-Cap
Diversified- Equity
Why choose
Scripbox Long Term Wealth
If you're looking for a hassle-free way to invest and grow your wealth in the long term, Scripbox offers just the right mix of things to make that happen
Praise from our customers
Previous

Next
I loved it when Scripbox reached out to me when the market was down to tell me that it's okay. It's like you've got my back!
Prasad Ethireddy
37, Sales Specialist from Bangalore
My husband is in charge of the kids' education and retirement, I take care of our vacations. Since I started investing with Scripbox,it has resulted in more luxurious vacations!
Dr Shraddha Bahirwani
Senior Dental Consultant,Bangalore
Scripbox hand-held me through the entire investment process. What I love is the educational platform for newbies like me!
Chitra Iyengar
43, TL - IBM from Bangalore
I was looking for something holistic - a user-friendly platform, simple sign-up process, expert fund recommendations, good service... Scripbox has it all.
Sairam P
34, Cisco from Mumbai
I've moved my FD savings to Scripbox. It's a very intelligent concept. My CA, LIC agent and Bank Manager also believe that Scripboxing is the right choice.
Phiroze Hussain Lakhani
45, Private Sector from Mumbai
I find Scripbox impressive, convenient and safe. It's great for beginners to start investing without agents' help. All your investments are at your fingertips.
Ravikumar
48, Private Sector from Bangalore
I wanted a solution that I could trust without physically going someplace. So, Scripbox is perfect! Convenient, easy to understand... lets me invest and forget.
Nisha C
27, Wipro from Bangalore