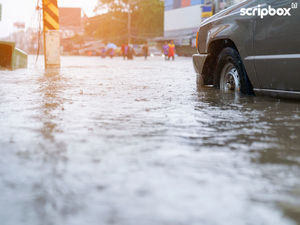 If you are a resident of any major Indian city, you have a special meaning associated with rains.

Rains for you, often means horrendous traffic jams, water logging, vehicle damage or even worse, damage to your home as the waters rise.
It pays to be ready
Last year, in the aftermath of the terrible Chennai floods, we wrote an article on how to be prepared for natural disasters.
Trends around the world indicate an increase in the severity of weather-related natural events - storms, rains etc. Given the ailing infrastructure in metros and the slow pace of improvement, you should take steps to be prepared.
So what should you do?
#1. If you own a house, insure it. Most property insurance costs only a few thousands of rupees each year.
#2. Insure all your household contents. Again it costs only a few hundred rupees. You might buy a home theater system worth tens of thousands but losing it to a flood because you didn't take insurance is a financial hit you shouldn't risk.
#3. Ensure that your car insurance includes protection against flood damage to all relevant parts.
#4. Top up your emergency fund to cover any damage to your home or car that insurance doesn't cover and for damages that are simply too unpredictable. A debt mutual fund or an FD is a good place to keep this money in.