The best option to invest a part of your savings for short term goals is to invest in a liquid mutual fund because apart from liquidity, savings bank account only offers you a fixed interest earning of 3.5% to 4%. On the other hand liquid mutual funds are flexible, and returns of up to 7%.
The hallmark of liquid funds is the availability of funds in the shortest possible time, usually on the next working day.
This is possible because liquid mutual funds are open-ended schemes that invest a major portion of the money in AAA-rated debt and money market instruments like;
Government securities
Treasury bills
Call money
Commercial paper
Certificate of deposits
These instruments are short-term with a maximum maturity period of 91 days and have the highest credit quality and are safe because they mitigate the interest rate volatility risk.
Here you have to be a little careful about time as you need to invest in the liquid mutual fund before the cut-off investment time of 2 p.m. Because liquid mutual fund units are allotted at the NAV of the previous day.
However, if you have missed investing before 2 p.m., then you will be allotted units on the same day NAV.
Unlike other mutual fund schemes where the redemption amount takes a few days to get credited, payouts from liquid funds are credited in your bank account on the next working day.
Now you know why you should invest in the best liquid mutual funds rather than parking funds in the savings account. The article further details the benefits of liquid funds, who should invest, and how to invest in top liquid funds through a hassle-free manner.
Benefits of Investing in Best Liquid Funds in 2019
1. High Liquidity
The major benefit of a liquid mutual fund is that it allows you to enter and exit the fund as and when required for any amount. So you will have your money the moment you want. This is possible because the funds invest in highly liquid short-term debt and money market instruments.
The redemption amount from the liquid funds gets credited within 1 to 2 days.
2. Least Risk
There is hardly any fluctuation or volatility when investing in a liquid mutual fund. As compared to any other debt mutual fund investments, liquid funds carry the lowest level of interest rate risk.
This is because liquid funds invest in short maturity (maximum 91 days) money market and fixed income securities.
3. High Returns
A liquid mutual fund offers you higher returns as compared to the returns from your savings account deposits. The annualized returns in liquid funds range from 6%-7%.
4. Instant Redemption
liquid funds offer you the facility of instant redemption under the Instant Access Facility (IAF). This means that on your redemption request, you will get instant credit of up to Rs. 50,000 or 90% of the latest value of the investment, whichever is lower.
5. High Credit Quality
Liquid funds are among the safest investments because they carry the lowest credit risk. The fund invests in government securities or money market instruments of AAA-rated companies and banks.
Who Should Invest in Liquid Funds
1. Investors Looking to Invest for Short Term
Any investor who has a chunk of surplus money awaiting deployment or spending can invest temporarily in liquid mutual funds.
The investment in the liquid fund will keep your money safe and yield risk-free returns in the meantime.
2. Individuals Looking to Save and Make Provision
Money kept in a savings bank accounts is prone to unnecessary withdrawals. On the other hand, liquid mutual funds can be used as a tool to save and make provision for short-term expenses.
For example, instead of accumulating money in a savings account, you can regularly save and invest in liquid funds for paying the quarterly school fees of your children. This will also help you to have better control over the cash flows.
3. Investors Looking to Invest in Equity Funds Through STP
An investor can use liquid funds as a medium to invest in equity funds by first parking all the money in a liquid fund and then subscribe for a systematic transfer plan (STP).
Through STP, a fixed sum of money from the liquid fund will get invested in an equity fund over a specified time period.
4. When Creating an Emergency Funds
A liquid mutual fund can be used to create and maintain a highly liquid emergency fund. Emergency funds can be six to eight months of your salary with an objective of being a cushion in situations of financial stress due to medical conditions or job loss.
Best Liquid Funds in India
Axis liquid fund is benchmarked to Nifty Liquid Fund Index and the objective of the fund is to "provide a high level of liquidity with reasonable returns commensurate with low risk through a portfolio of money market and debt securities".
You can start investing in Axis Liquid fund with a minimum first investment of Rs. 500 or SIP of Rs. 1000.
Salient Features of Axis Liquid Fund (as on 1st August 2019)
| | |
| --- | --- |
| Features | Axis Liquid Fund |
| Managed by | Axis Asset Management Company Ltd. |
| Asset Class type | Debt |
| Yield to maturity | 7.29% |
Tata liquid fund is benchmarked to Crisil Liquid Fund Index and the objective of the fund is to "generate reasonable returns with high liquidity to the unit-holders".
You can start investing in Tata Liquid Fund with a minimum first investment of Rs. 5000 or a SIP of Rs. 1000.
Salient Features of Tata Liquid Fund (as on 1st August 2019)
| | |
| --- | --- |
| Features | Asset Class type |
| Tata Liquid Fund | Debt |
| Managed by | Yield to maturity |
| Tata Asset Management Limited | 6.36% |
How to Invest in Best Liquid Funds through Scripbox
To invest in the above listed liquid funds you can go to Scripbox website and follow the steps mentioned below.
Step 1: Achieve Life Goals
The first step is to visit the website and scroll down to get started section and opt for "Achieve Life Goal".
On the next page, you need to select the goal "Emergency Money" to invest in a liquid mutual fund.
Next, you will be prompted to fill in the age and your present monthly income. After which, you will get recommended plans.

Step 2: Select Plans
Here you will find the amount of emergency fund you need and the list of recommended plans for different periods.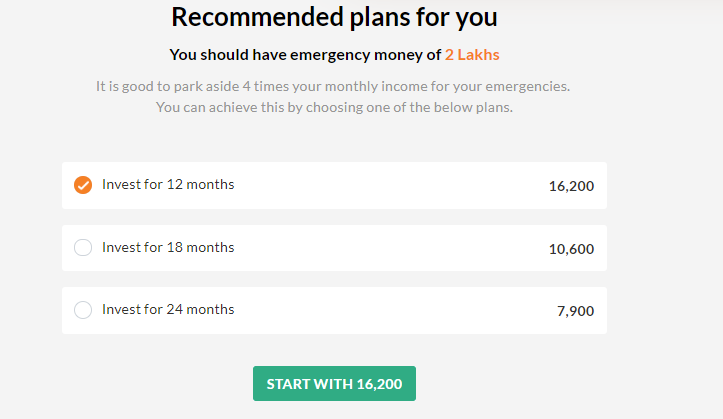 Select the plan according to your cash flow position and comfort.
Step 3: Review and Confirm Plan
Step 4: Create an Account
You can create an account or get the plan e-mailed by providing the email address. After creating a log-in you will get the fund details as shown below
Step 5: Add Bank Account and PAN Details to Invest
You will need to provide bank account details for transacting. The account will be used for investment and crediting the redemption amount by the mutual fund houses directly to your specified bank account.
Additionally, you will be asked to provide PAN details also.
Conclusion
Liquid mutual funds are a better alternative to savings bank accounts and short-term fixed deposits. You can easily invest your surplus cash for a small time period and redeem it when required with superior returns.
In case of any doubts or questions, please feel free to ask in the comments section below, we will try and respond as early as possible.